Former Facebook CTO Bret Taylor and Google App Engine founder Kevin Gibbs are challenging "slow moving" Microsoft with their interactive word processor app with real-time group collaboration.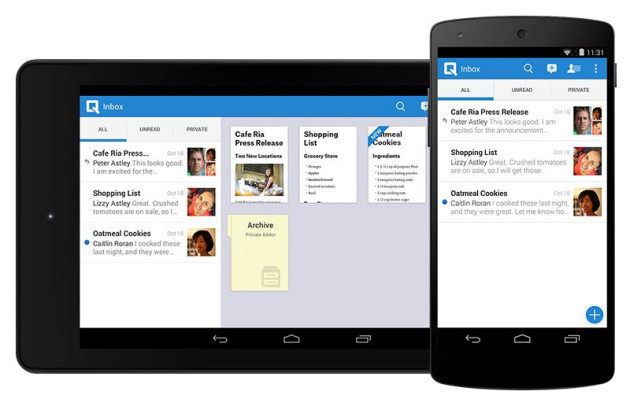 The iOS version of Quip launched in August and in just four months, hundreds of thousands of documents have been created using the app.
Today, the app launches for Android, a move that Taylor claims will bring the app onto 76% of smartphones and tablets in the world, a percentage which is only likely to grow, given that 81% of smartphones shipped in the last three months ran Android.
Office is currently only available on the iPhone and for Android smartphones, but the apps only offer basic functionality. The apps can only be accessed if users have an existing Office 365 subscription with no free or standalone version.
Microsoft has said that it will not release the Office app for tablets until it has completed work on a touch user interface. A leaked Microsoft roadmap points to the iOS and Android versions not launching until autumn 2014.
There are already quite a few free word processor apps on the market however, including Google Docs, Texilus and Kingsoft's Office Writer, as well as Apple's own tablet-top publisher called Pages, part of its iWork suite, which is now free on all new iOS devices.
So what makes Quip unique?
The secret, Taylor explains, is the fact that the app enables users to edit the same document, view changes in real-time and discuss the changes in a chat messenger built into the app.
The app is available for free for personal use or for businesses where there are not more than five people using the product. Using this model, Taylor says that the app is becoming popular by users downloading it for personal use, and then introducing their office to it.
"Although there have been collaboration apps created in the past, there hasn't really been anything that makes it simple for two people to interact and make changes in a document at the same time," Taylor told IBTimes UK.
"In times like this where companies like Microsoft are moving more slowly, we hope that this will give more people the opportunity to try out this software."
"Most enterprise software is really bad"
While Quip's end-game is to have their product one day in as many offices as possible, Taylor and Gibbs have drawn on their experience in big consumer internet brands Facebook and Google in order to make a product users really want to use.
"Most enterprise software is really bad. No one uses their expense reporting software and thinks it's a really good experience. With enterprise software, the stereotype is that a sales guy has a really expensive dinner with an IT manager in the company you work for, convinces him to buy the software, and then you get an email telling you to use the product - you don't really have a choice in the matter," said Taylor.
"In contrast, a lot of the software you use on your phone, be it Instagram, Twitter or Facebook is really simple to use, and I think consumer software [succeeds] because the business model makes people want to use it."
Facebook influence
Quip is heavily influenced by the interactive aspect of Facebook. When a document is being edited, changes made by different users are catalogued in a News Feed that runs in the app by the side of the document.
Users can start a group chat to discuss the document while it's being edited, and even start private one-to-one instant messaging conversations in the app to discuss changes.
Taylor points to the fact that there are more people nowadays who own smartphones and tablets than those who own laptops.
"Our product was designed on the premise that how you use software will drive the transition to mobile, so that one day, if a piece of software doesn't work with your phone, you will cease to use that software," he said.
Security focus
In order for the changes to the document and the updates to be registered to each app in real-time, Quip syncs to the cloud constantly.
"All of the communication going to the network is encrypted. Because Quip has been built for enterprises, we have done third party security audits to verify that our security abides by the best practices," Taylor explained.
"The NSA revelations will be talked about in the US for quite some time, but the convenience of having it in the cloud outweighs the risk. Right now our data centre is in the US, but if companies want it, we might offer different data centre options in the future, allowing companies in Europe to have their data stored in a European data centre, for example."
While Taylor is unwilling to share how many users are currently using the app, he did say that hundreds of thousands of in-app messages have been sent already, and that the countries where Quip is currently most popular are the UK, Italy, China and the US.
With Microsoft choosing to take its time to develop a touch-optimised version of Office, Quip has a prime opportunity to grab market share.