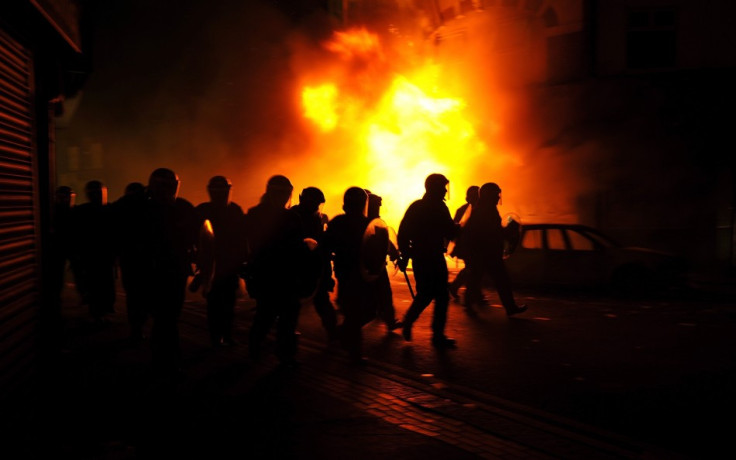 The Metropolitan Police has dismissed two officers after sending racist text messages during the London riots in 2011. PC George Cooper, 41, who worked for Parliamentary and Diplomatic Protection Unit, SO6 and Lewisham-based PC Stephen Newbury, 49, were exposed during an investigation into the Plebgate row.
The pair were sacked from the force without notice after a public misconduct hearing on 7 October. The Met said that Cooper and Newbury had over 30 messages which were considered "racist and discriminatory in tone and content". Cooper had sent 24 untoward messages, while Newbury sent eight.
At the peak of the London riots, Newbury was suffering from tonsillitis and was contacted by colleague Trevor Barrett to ask if he was at work. "Off mate, though had s**t loads of missed calls," Newbury replied. "Papa Lima [Lewisham] can burn as far as I'm concerned, along with all the spades." 'Spade' is an outdated and racist term used to refer to black people.
On 23 November 2011, Cooper sent the following message: "These little black c***s are really f*****g me off, if they want to act like monkeys why don't they f**k off to the jungle." The Chair of the disciplinary panel, Deputy Assistant Commissioner Maxine de Brunner said this message was particularly alarming as "it demonstrates to the panel this officer holds racist views".
Deputy Assistant Commissioner Fiona Taylor, of the Directorate of Professional Standards (DPS) said: "We, and the public, expect our officers to maintain the highest possible standards of behaviour.
"The content of the text messages being exchanged between these officers was not only highly inappropriate and discriminatory, but in direct contradiction of the values of the MPS. There is no place for officers who hold racist views in London's police service," she added.
The officers were found out during Operation Alice (codename for the Plebgate investigation.) Newbury was found to have breached standards of professional behaviour in relation to authority, respect and courtesy, equality and diversity, discreditable conduct, confidentiality and orders and instructions. Newbury violated standards of professional behaviour in connection to authority, respect and courtesy, equality and diversity, discreditable conduct and challenging and reporting improper conduct.