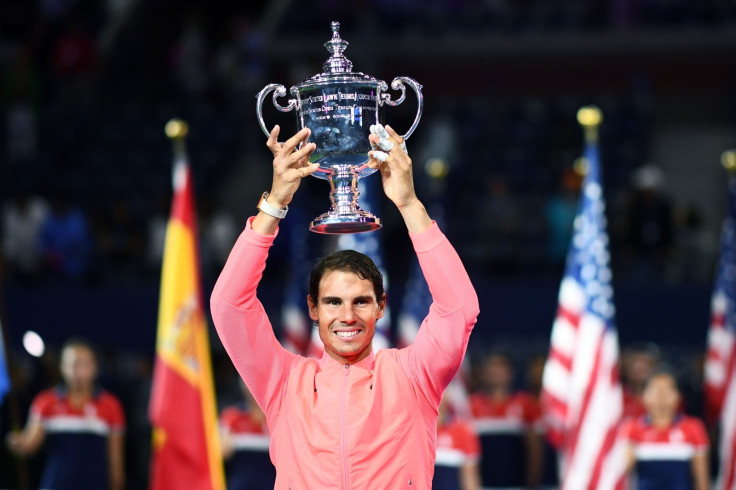 Rafael Nadal's US Open triumph now puts him just three titles behind Roger Federer's 19 men's singles Grand Slam titles and the Spaniard believes it is possible for him to catch his long-time rival, but made it clear that it will be a very difficult task.
The 31-year-old, like many others, believes that he will have to play well into his thirties like Federer, 36, to have a chance of reaching the current record. Nadal is not certain that it will be possible, and revealed that he will play until his 'body and mind' allow him.
The 16-time men's singles Grand Slam winner is not worried about the prospect of retiring from the sport, but is not thinking of that at the moment. He is confident that he will be happy even when he eventually hangs up his racket.
"Yes it's possible but it's very difficult," Nadal said about catching Federer's record, as quoted on Tennis World USA. "Between saying and doing it, there is a lot of difference."
"No one guarantees me that I will play until 36. I will play until when my body and mind will allow me to do it. I am not afraid or worried about the retirement. I am happy also without playing tennis, but adrenaline that the sport gives you is very difficult to find in other things."
Nadal is currently ranked number one in the world following his run to seven finals and five titles in 2017, which includes the French and US Open titles. It is the first time since July 2014 that he has achieved this feat.
He is 1,960-points ahead of number two Federer at the moment, but it remains to be seen if he can retain his position until the end of the year. There are at least 4,000-points to play for and all the upcoming tournaments favour the Swiss ace owing to it being on hard courts that favour the latter's game.
The Spaniard, however, maintains that being the top ranked men's singles player was not one of his goals at the start of the season, but admits that it does make him feel more excited and gives him a perspective of the year gone by.
Nadal maintains that his main goal of the season was to stay healthy, owing to his injury struggles in recent campaigns and to challenge for the major titles. He has achieved both his goals thus far and will be keen to end the year on a similar fashion and maintain his advantage over his long-time rival in the race for the year-end number one ranking.
"Being no. 1 was not one of my goals at the beginning of the year. Obviously it's much better to be no. 1 than no. 3, but my priority was only to be happy, and to be happy you need to feel competitive, and to feel competitive you need to be healthy," the Spanish tennis legend explained.
"Being no. 1 doesn't give me any special feeling, but makes you feel more excited. It's like a reward for what you did. The vital thing this year was not to get injured, winning titles and fighting for everything, which is happening this year."