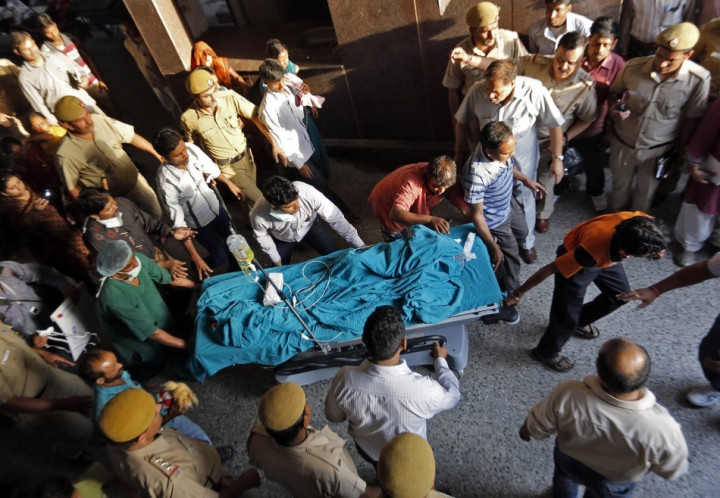 Pradeep Ram, one of the accused in the Delhi minor rape case, has confessed to raping the five-year-old girl even after she lost consciousness.
Ram, 19, along with Manoj Kumar, 22, are accused of the latest sex crime to shock India.
The minor was abducted from outside her house and kept hostage for two days without food and water, after being brutally raped by the attackers who also mutilated her genitals. She was found in the Kumar's house on 17 April when her family, who lives in the same building, heard her screams in east Delhi's Gandhi Nagar.
Manoj told police that he and Ram decided to kill the girl because she was crying and they wanted to hush up the crime.
"Seeing the girl bleeding and crying, they decided to kill her. Pradeep tried to strangulate her but he was inebriated and could not kill her. After that Manoj tried to slit her throat with a razor blade," said a police official.
While Kumar married an year ago, Ram is a bachelor who had been living in Delhi for eight months.
"They both returned to Manoj's house in Gandhi Nagar in east Delhi. On their way they again bought alcohol and consumed it at Manoj's room," said the police official.
The accused then watched porn clips on their mobiles and decided to call prostitutes.
"When Manoj went out of his rented accommodation, he saw the girl playing. He lured her and brought her to his room. Both of them raped her," said the officer.
Soon after trying to slit the girl's throat, Kumar locked the girl inside his apartment and went to New Delhi Railway station along with Ram.
The duo then fled by train to Bihar, where Kumar went into hiding at his in-laws' house in Muzaffarpur while Ram went to his maternal uncle's house in Lakhisarai, from he was arrested.
Meanwhile, in their statement to police during an interrogation, the two men accused in the rape of a five-year-old girl in Delhi, said that they shoved the bottle and candle inside the child to stop her bleeding after they raped her.
According to a report by Indo-Asian News Service (IANS), the two men, Manoj Kumar (22) and Pradeep Ram (19) apparently got panicky when the girl started bleeding heavily after they had raped her and inserted a 200 ml glass bottle and pieces of candle in to her vagina to stop the bleeding, police said on 23 April.
READ: India: Doctors Find Bottle, Candle Inside 5-year-old Rape Victim
READ: Delhi Rape: Man Arrested After Police Bribed Victim's Family with £24 to Keep Quiet