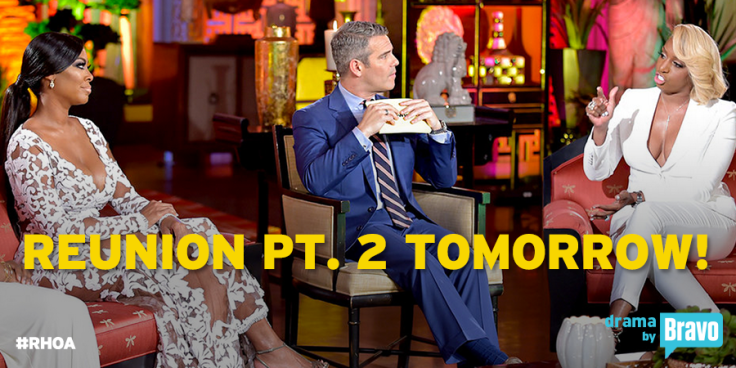 Part two of the three-part reunion episode of The Real Housewives of Atlanta airs on Sunday, 3 May at 8pm on Bravo.
Click here to watch the RHOA reunion episode via live stream or click here to watch it online.
In a new promo video, NeNe Leakes is seen attacking Kenya Moore who claimed that Leakes flirted with Cynthia Bailey's husband.
"Everybody flirts. Nene was flirting with Peter [Thomas]," Moore revealed.
Leakes replied back, "Girl, I have never flirted with Peter, don't go there! I don't give a damn what they accuse me of, I have never flirted with Peter. Me, Peter, Cynthia and Gregg were friends."
"We not going to cross no lines because my husband is here and I'm married," Leakes yells, and threatens Moore, "Don't do that in front of my husband. Hold on. You're not going to disrespect me and my husband."
Leakes continued in her defense and said: "This ain't Phaedra. You're not going to disrespect my marriage, you can disrespect her and Apollo."
Post the verbal war, Leakes spoke it in an interview.
"She went too far," NeNe said on New York Live. "They played me right there. We really got into it for that, because Cynthia, Peter, me, and Gregg, we all were friends. Really good friends. We double dated. We traveled together. So to really like put that into the atmosphere was not cool to me. And my husband was sitting right there."
Previously, Leakes had hinted that she might not return for RHOA season 8.
"[There are] people who come on the show...willing do anything," NeNe told US Weekly. "I want to work with people who have some respect and some limitations!"
"I would be happy to come back if we could find the right girls," NeNe mused. "If the show stays this way, I can't see myself doing it...who wants to work in a stressful environment?" she added.