Porsha Williams and Cynthia Bailey's fight turned physical following a disagreement between the two during Kenya Moore's boat party in episode 4 of The Real Housewives of Atlanta season 8. The drama between them ensues in episode 5 of the reality series.
Episode 5 titled Where is the Love Boat? airs on 6 December at 8pm ET on Bravo. The official synopsis reads as follows:
Cynthia and Porsha's argument quickly takes a turn for the worse and drama ensues on what was supposed to be a fun, girl's booze cruise. Back on land, the group is in discord as everyone's version of what happened causes conflict amongst the ladies. In the aftermath of the lake trip, Peter returns home from Charlotte to console Cynthia, forcing them to work on their marriage. Kandi visits the doctor and comes face-to-face with some troubling news. Kenya and Porsha meet to discuss the altercation between Porsha and Cynthia, but the conversation quickly turns into a reminder of their troubled past. The ladies then all come together in an attempt to unite the group and repair the splintered friendships.
Click here to watch the RHOA episode via live stream or click here to watch it online (only in the US). Radar Online reported that Porsha was rushed to the emergency room with cuts and bruises from Cynthia's heels. The drama began when Porsha called Cynthia b****.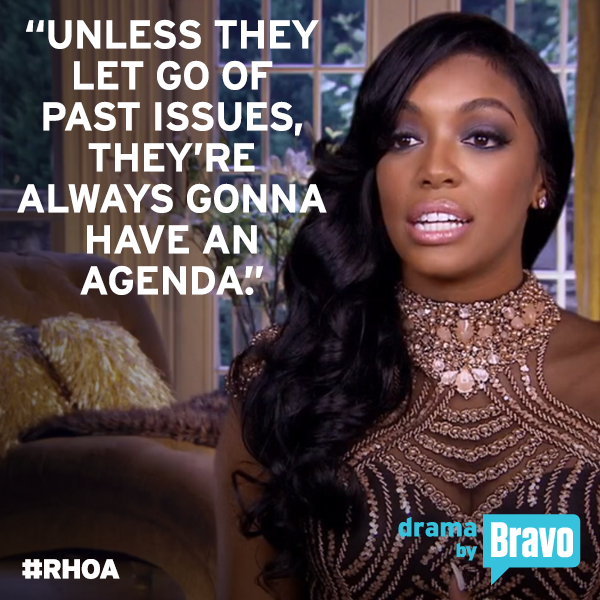 Cynthia talks about her confrontation and admits that she overreacted in an interview with Bravo. She said: "In my opinion, the word 'b****' can be used in fun as a term of endearment or disrespectfully as an insult. It depends on the tone and context in which it is used and interpreted."
She explained: "How did Porsha and I go from having fun and kicking it to a heated confrontation when all I was attempting to do was try to prevent Kenya from kicking her friend Shamea off the boat? Was it wise to get caught in the line of fire to try to diffuse a bomb that was never intended for me? Looking back, probably not. Maybe I should have kept my big mouth shut, sat back with the other ladies, and watched the fireworks."