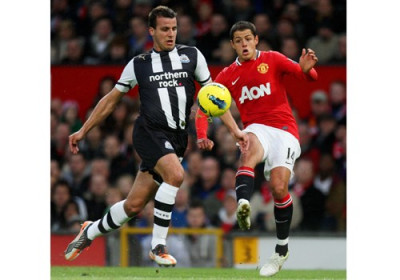 Old Trafford saw the Reds leave in disappointment after they were denied two precious points during their game with Newcastle United leading to a 1-1 draw on Saturday night.
The Manchester United led by Javier Hernandez earned the lucky goal, four minutes after the interval, making it his sixth in the season.
Clearly the Red Devils could have emerged a winner if only a poor referee decision by far-side linesman, John Flynn, had not awarded Rio Ferdinand a penalty. Their dreams were outrun by the Magpies in the 61st minute after Demba Ba scored a spot-kick and rescued the team from a massive defeat.
Though Sir Alex Ferguson's team displayed top-notch performances, it was Tim Krul, the visitor's goalkeeper, who hogged the limelight as he denied the hosts a dramatic win with a string of top saves. Krul also foiled the first chance when Hernandez had a goal disallowed for offside deep into injury time.
"I could see us scoring because we kept creating chances and the normal pattern of these 15-minute surges is that we take our chances and we are okay. They put their bodies on the line. I give them credit for that. We absolutely slaughtered them but we just couldn't get the result. It is disappointing but if we play like that every week, I will be very happy," said Sir Alex Fergusson.
With the draw, United have closed the gap on rivals Manchester City, who are playing at Liverpool on Sunday, to four points, while Newcastle United are currently at the fourth place with 26 points. However, the result also means Manchester City can go seven points clear if they win at Liverpool.
Take a look at the game in pictures.