A London-based iPhone messaging app claims to be unhackable and is offering a £10,000 reward to anyone who can intercept a message sent by it.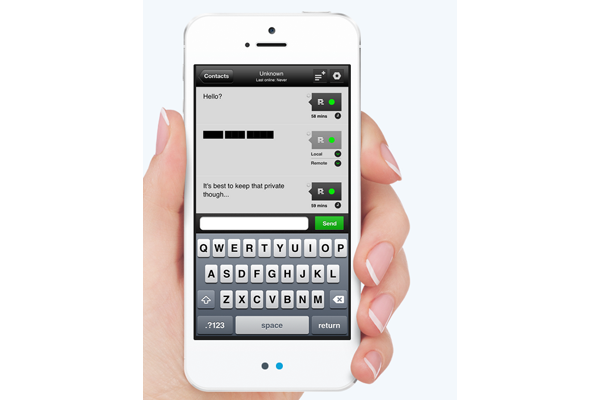 Redact Secure Messenger is out now for iPhone and costs £3.99, although the app is free if you are an MP or CEO of a FTSE 500 company - an indication of who might want such a secure means of texting.
The application creates a secure and encrypted peer-to-peer network between two iPhones, with messages sent directly from one phone to another and not through the company's servers. Apps for Android, Windows Phone 8 and desktop are coming soon.
Redact believes that messages sent via the app are completely secure, and to prove it a reward of £10,000 has been offered to anyone who can intercept and decrypt a message which is set to constantly bounce from one iPhone to another. As a head start, Redact will tell hackers the location of the phones.
A registration form has been set up at moderndayturing.com - a nod to the famous code breaker Alan Turing, who worked at Bletchley Park to decrypt the German Enigma machines during World War Two.
Upon filling out the form - which looka more like a job application, asking for relevant experience, qualifications and a CV - and taking an interview, 20 candidates will be chosen and given the opportunity to intercept the message, with £10,000 given to the first to tell Redact what the message says. Those interested must submit their application by 1 June.
Redaction
Asides from its tight security, messages sent using Redact can always be deleted - or redacted - by the author and doing so removes them from the conversation history on both devices.
There's no way to refuse a redaction or avoid it, although the user could always take a screenshot of the conversation before a message is removed by the sender.
With Redact there are no user names, phone numbers or email addresses. Instead, new users are automatically assigned a unique PIN, similar to BlackBerry Messenger, but this PIN is never stored anywhere and there is no recovery tool for hackers to exploit.
Going beyond a headline-grabbing competition, the Telegraph reports that Redact is looking for government approval from the UK's Communications Electronic Security Group, a branch of GCHQ which works to secure the communications and information systems of the government and various parts of the UK's telecommunication infrastructure.