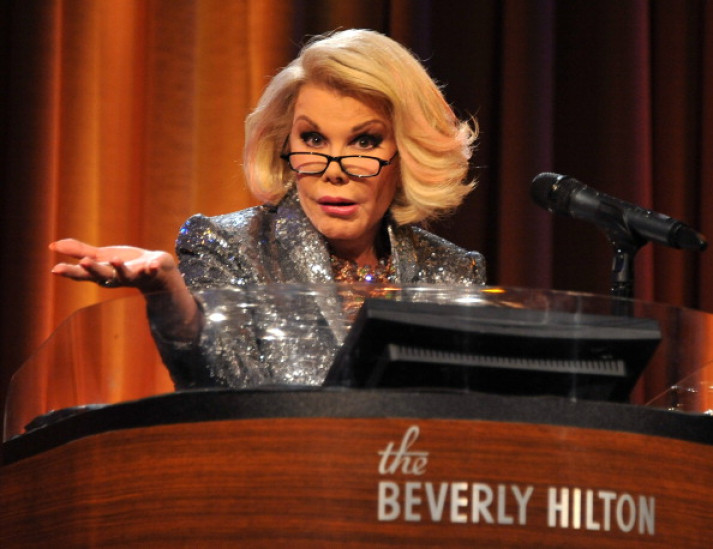 American comedian and co-host of the E! Fashion Police television show, Joan Rivers passed away today (4 September) at 81.
While her acerbic jibes were often overlooked, a good share of her political jokes landed her under fire from critics.
Most recently, Joan Rivers was heavily criticized for her outrageous rant on the Israel-Gaza conflict when she shouted out that Palestinians "deserved to die".
"When you declare war, you declare war. They started it, we now don't care whose dead. You're dead, you deserve to be dead. You started it. Hamas was re-elected by some very stupid people who don't even own a pence," shouted a fuming Joan to a TMZ reporter on 6 August at the Los Angeles airport.
Her rant came after a photographer asked for her opinion on the Israel-Gaza conflict, and the mounting Palestinian casualties.
After the video began circulating online, Rivers released a statement on her Facebook page on 15 August clarifying that she meant to say "Hamas" when instead she said "Palestinians".
Holocaust Humour
Last year, Joan was in hot water when she passed an outrageous Holocaust joke while commenting on a dress worn by German model Heidi Klum.
"The last time a German looked this hot was when they were pushing Jews into the ovens," said Joan.
She was later blasted by a Jewish pressure group, the Anti-Defamation League (ADL).
"Of all people, Joan Rivers should know better. This remark is so vulgar and offensive to Jews and Holocaust survivors, and indeed to all Americans, that we cannot believe it made it to the airwaves," said the National Director of the Anti-Defamation League who is also a survivor of the Holocaust.
Joan hails from a Jewish background. Her parents were both Russian Jewish immigrants who moved to United States, where she was born as Joan Alexandra Molinsky in 1933.
Joan was also a member of the Temple Emanu-El of New York, which was the first Reform Jewish congregation in New York City.
She has always declared her open love for Israel.
Several Israelis and pro-Israelis paid tributes to the comedian following news of her death.
Netanyahu on Joan Rivers: She was proud Jew & vocal Israel supporter. "We will miss her deeply."

— Herb Keinon (@HerbKeinon) September 4, 2014
Joan Rivers said all the things every Jew and Israel supporter/advocate would want yell in the face of Anti-Semites & Israel haters. R.I.P. — Goliath Appleseed (@JIDFfan) September 4, 2014
While for others the wounds from her rant on Palestinians were revived.
Karma was damn fast on this one.. just weeks after 'jew-an' molinsky @Joan_Rivers called dead palestines 'idiots deserving of death'.. @tmz

— Petit Européen (@raulhGarcia) August 31, 2014
As a Jew sensitive to the Palestine/Israel situation I'm not lamenting Joan Rivers death. Feel free to unfollow — TotLiebenGott (@DeadLeaFMoth) September 4, 2014
As a Jew who tells jokes, criticises people's outfits and is often the subject of plastic surgery speculation, let me say R.I.P Joan Rivers.

— Adam Hodes (@AdamHodes) September 4, 2014
Some chose to remain silent and tried to bridge the widening gap between Jews and Muslims.
The Prophet pbuh stood up for the funeral of a Jew out of respect for his humanity. I believe its best to just keep silent about Joan rivers — Zain. (@ZReallz) September 4, 2014
Stop dissing Joan Rivers. The prophet himself went to a sick Jew's house who hated Muslims and stayed with him and wished him well.

— يزن (@YazJabr) September 4, 2014