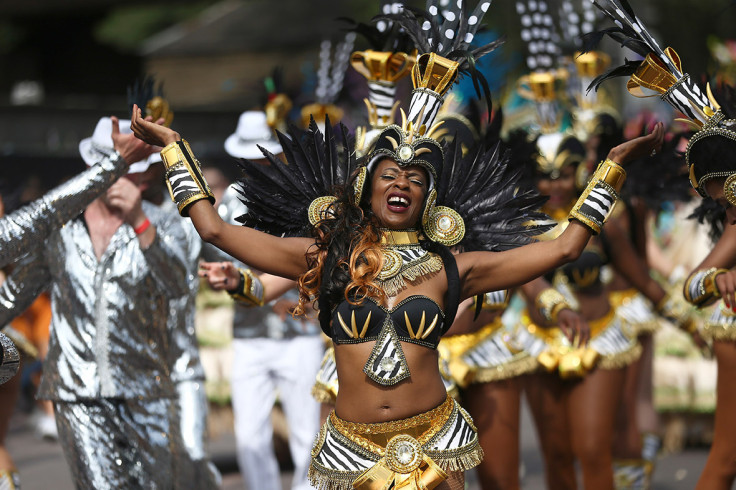 The Mayor of London has been urged to launch a wide-ranging review into the future of the Notting Hill Carnival, after the local MP said the event risked turning into a "crime fest", and police chiefs complained it had become unsafe for officers.
Victoria Borwick, MP for Kensington, said the two-day celebration had plunged parts of her constituency into violent crime and disorder, and that a conversation was needed with organisers on how best to run the event next year.
She said possible options for the future could include taking the carnival away from its traditional route through "unsafe" narrow streets, and allowing music acts to use other parts of London, like Hyde Park.
"What we all want is a safe and happy carnival and I just want to get people to start talking about its future," she told IBTimes UK. "When is anybody going to be bold enough to ask how we are going to take this forward?
"This year we had a 15-year-old boy slashed with a zombie knife ... and others left with life-changing injuries.
"The mayor should conduct a review to see how we can make the carnival safe."
More than a million revellers are thought to have descended on west London on the bank holiday weekend to mark the carnival's 50th anniversary.
While majority enjoyed the festivities trouble-free, the event was overshadowed by pockets of violence and disorder.
Fifteen people, including at least three teenagers, were victims of knife attacks, while 454 people were arrested during the whole event – the highest number for at least 15 years.
Borwick said she and London Assembly members attended the event on Sunday and Monday as part of a "fact-finding mission" to see how the local area coped.
While she said she enjoyed the "fabulous" parade, she described the high number of arrests as "disgusting" and bemoaned the impact on local businesses who boarded up their shopfronts.
She urged her Conservative colleagues in the Greater London Assembly to demand Mayor Sadiq Khan launch a full review into the carnival, adding: "This is an international event and we have the hold of London to play with.
"What should be a fun carnival risks turning into a crime fest. We can't go on like this waiting for someone to be killed."
Police 'assaulted, abused and spat at'
The Met Police Federation has also called for the Mayor to conduct a "full-scale review" after it said more than 40 officers were injured while policing the event.
Ken Marsh, the body's chairman, said the carnival was being "hijacked" by troublemakers.
"Last year we had an officer stabbed. This year colleagues were assaulted, abused and spat at. Forty-three were injured – with eight needing hospital treatment. How can that be right? It's completely and utterly unacceptable.
"A seemingly growing number of people appear intent on hijacking this Carnival and turning it into a Bank Holiday battleground. The Glastonbury music festival had 40 arrests this year. Notting Hill had 10 times that amount.
"The organisers need to understand that this event cannot carry on regardless. I think many Londoners will wonder whether the significant amount of taxpayers' money spent policing this event is frankly worth it."
City Hall said it held a review with organisers and the police every year to see "which areas need improvement". It did not say whether this year's would include discussions over changes to the route or incorporating other parts of the capital.
Record number of arrests
The majority of those detained by the police during the carnival were held for weapon offences or drug possession, while paramedics treated more than 1,000 people, mostly for alcohol-related problems.
On Sunday afternoon, a 15-year-old boy was stabbed in Wornington Road – which runs parallel to the carnival route – with a 14-year-old boy arrested on suspicion of grievous bodily harm. He was reportedly attacked with a a so-called "zombie knife", with his condition downgraded from critical to not life threatening.
The same afternoon saw a 20-year-old man suffer a knife attack in Portobello Road, and two teenage boys, aged 15 and 16, both suffered stab wounds in Ladbroke Grove.
Scotland Yard said a fifth male approached officers at Kensal Rise tube station telling them he had been stabbed in the head, but declined to provide further detains and subsequently left the scene.
The two-day celebration of Caribbean culture in London hosted 60 bands and 38 sound systems, with the majority of revellers enjoying what is described by organisers as Europe's largest street party. The carnival, which began in the 1960s and now attracts visitors from all over the world, saw a heavy police presence throughout.
Organisers of the Notting Hill Carnival did not respond to requests by IBTimes UK for comments.