Travellers can now buy a replica Kalashnikov assault rifle at Moscow's Sheremetyevo Airport before embarking on their flight.
A boutique has opened at the airport, selling a range of merchandise to promote the famed Russian firearms brand, which manufactures the AK-47 assault rifle.
Among the items on sale are umbrellas with the Kalashnikov logo, bags, pens, "I love AK" T-shirts and model weapons.
"Kalashnikov is one of the most popular brands that come to mind when people think of Russia," said the firm's marketing director Vladimir Dmitriyev, quoted by RIA Novosti news agency.
"So we are pleased to provide everyone with an opportunity to take home a souvenir with our brand on it."
The Kalashnikov AK-47 assault rifle is one of the world's most durable, effective and widely-used firearms. It was used originally designed for use by the Soviet Union's armed forces, but has been adopted by guerrilla and terrorist groups worldwide, even featuring on the flag of Lebanese militant organisation Hezbollah.
The replica firearms were clearly models and could not pose security problems, an airport official told Reuters.
However, Anna Zakharova, another spokesperson for the airport, said the availability of the replicas was of concern.
"This issue is seriously important," she said. "The situation is being monitored by our aviation security service."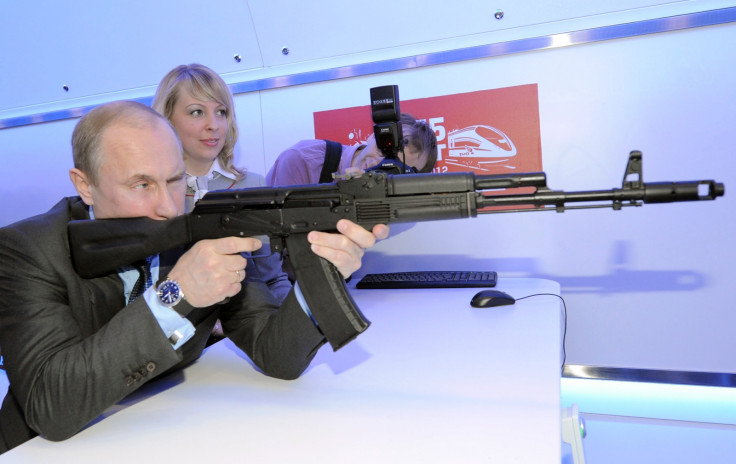 The sale of the replica rifles comes amid increasing concern about international terror organisations targeting civilian aviation.
Sheremetyevo is Russia's busiest airport, with 31 million passengers passing through it in 2015.
Kalashnikov Concern is one of several Russian companies and individuals subjected to sanctions by the US and EU following the 2014 annexation of Crimea by Russia. Fifty-one per cent of Kalashnikov Concern's shares are owned by state company Rostec, and the guns are manufactured in Izhvesk, Russia.