Today is 4 May, otherwise known as Star Wars Day. You may have noticed because your Twitter and Facebook feeds are full of people either saying "May the fourth be with you" or making tired Star Trek jokes.
It's a day to celebrate one of the world's biggest entertainment franchises, so we thought we'd take a look back at last year's Star Wars Battlefront for PS4, Xbox One and PC, and see what worked, what didn't, how the game has been updated in the near-six months since, and how justified the main criticisms of the game ended up being.
Battlefront is a wonderfully made game in terms of production value, visual and audio design that's more than the sum of its parts. You see familiar sights and sounds, but they're brought together well by a deep knowledge and affection for the what made the original trilogy work. It certainly looks and sounds like Star Wars, but it also feels like it, and that's a tough quality to nail down. George Lucas didn't manage it in the prequels.
This quality work has carried over into the game's offers since. 12 initial maps were joined by two more, set on Jakku, shortly after launch. Further maps have been added for free and through the first of four paid expansions. Each has adhered to the same quality, including many fan-pleasing sights – particularly on the Jabba's Palace maps, which include a dead Rancor, Jabba's throne room and his sail barge.
Season Passes are always a source of displeasure among gamers, especially when EA are the publisher responsible for peddling one. As expensive as Battlefront is (£39.99), DICE has a track record of offering value for money when it comes to season passes, and Battlefront looks set to keep that record intact. Over the next year, expansions taking players to Cloud City, the Death Star and another, mystery location will all arrive, and if the Outer Rim pack is any indication, together they'll warrant the price.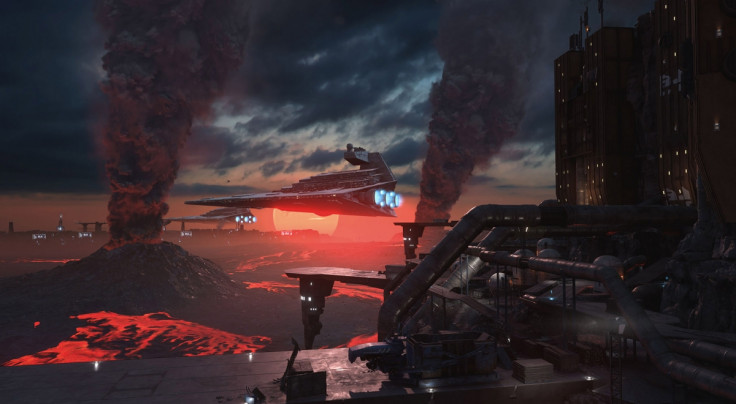 One of the main criticisms levelled at the vanilla version of the game, was that it didn't offer enough to its players in terms of maps. Indeed, the biggest, 40-player modes (Walker Assault, Supremacy and Turning Point) as well as Fighter Squadron mode, had just four maps at launch, and five shortly after.
That isn't much, but only players that limit themselves to these modes are affected. It's not the developer's fault if a player doesn't want to play the full range of what's on offer, even if eventually all players will find their preferences and largely stick to those. Battlefront offers a great variety in terms of multiplayer game modes – ten currently, with more on the way – and maps to play them on – 22 following the Outer Rim expansion.
Battlefront is a simple shooter mechanically, with no reloading and small weapon load outs. It is certainly less taxing than many other multiplayer shooters on the market, and this aggravated some shooter aficionados, but it was entirely by design. My review opened with: "Star Wars Battlefront isn't a game designed for the Call of Duty or Destiny crowds... this is for Star Wars fans young and old: those who enjoyed the original trilogy as youngsters and their children who can't wait for the new film."
It is a game designed for a more casual audience, a more mainstream audience that barely overlaps with the enormous Call of Duty crowd. It's for gamers with time for maybe a couple of half hour gaming sessions a week, who want simple Star Wars thrills. Battlefront caters for this crowd, not to mention for gamers like myself who don't want to dedicate vast amounts of time to a shooter that commands greater skill. Sometimes, I just want to run through the legs of an AT-AT, shoot Greedo with a rocket launcher and fire at Ewoks even though I know they can't be killed.
When I first played Battlefront I saw potential for it to become the kind of game I'd keep coming back to months after release. As someone who plays a lot of games and tries to keep on top of the release schedule, that doesn't happen very often, but with Battlefront I've kept coming back. And so should you.