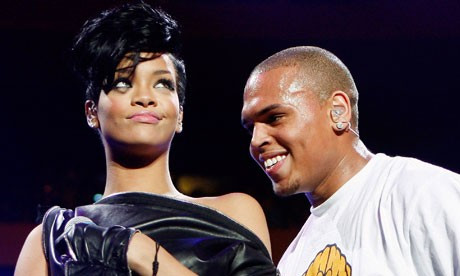 Rumours of a reunion between singers Chris Brown and Rihanna have been gathering steam, amid new reports the two have been exchanging romantic messages of late. An article in HollywoodLife.com states a close friend of Rihanna's saw texts that have been claimed as romantic sent to Brown while the latter was in London.
"Rihanna's been texting Chris today and one text said 'I miss u baby' and 'I wanna c u perform this weekend,'" the source said to Hollywood Life, "You would think she'd be having the time of her life and partying it up in London but she's really missing her boo." Meanwhile, Rihanna's friends have reportedly advised the We Found Love singer to leave for Los Angeles so she can catch Brown's performance at the BET Awards.
"Her girls are trying to tell her to pack her [stuff] up and leave to LA but I don't know what her deal is," the source said to the entertainment Web site, "She obviously wants to see him so she needs to make a move fast."
The two singers have had a troubled and often controversial relationship together. They split three years ago, after Brown assaulted the 24 year old Barbados-born singer. Recent reports suggested they had reconciled and, in fact, they even worked together on Turn Up A Music and Birthday Cake and that Rihanna was pining for him.
"Rihanna already misses her little Chris. She can't just 'randomly' bump into him at a club right now. She's feeling a little Chris - sick," another source told HollywoodLife.
"Personally if you ask me, a little time apart will be good for them after all the beef that went down in NYC. This is what I think they both need, a few days apart. She does talk about him, though, and sent four text messages checking on him," the source added.
Brown is dating Vietnamese model Karrueche Tran and a close friend of Rihanna's said Brown's relationship with Tran "infuriates" her.