Twitter hoax deaths seem to be claiming more lives than natural disasters!
The latest victim of these hoaxes is teenager Canadian singer Justin Bieber, who was declared dead late on Sunday night.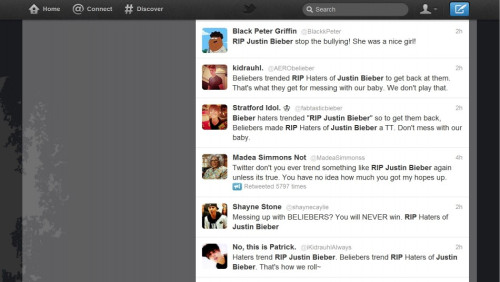 Fortunately, to the relief of millions of his fans worldwide, the singer is apparently alive and well. In fact, he was apparently tweeting himself when the rumours were spreading, according to a report by Gossip Cop.
"Great day fishing. time with grandpa doing the simple things in life. great day," tweeted the star.
As one would expect, the news of his supposed death evoked various respsonses...
"RIP Haters of Justin Beiber??? How bout RIP Haters Who Like Justin Beiber..."
"RIP means Really Inspiring People. And if the trend right now is RIP haters of Justin Beiber. That means Beliebers are complimenting us!"
"RIP Justin Bieber, that's cool. Dear Twitter, when will you kill one direction?"
"RIP Justin Bieber? Finally twitter killed the right person."
"So I'm not the only one who wants to RIP Justin Bieber's clothes off? Must not be, it's trending. You mad haters? ;)"
"RIP Justin Beiber... Died before his balls dropped.."
"RIP Justin Beiber. She was a very talented lady."
Bieber follows a number of other celebrities, like Eddie Murphy, Adele, Rick Ross, LeBron James, Jon Bon Jovi, Charlie Sheen, Adam Sandler, TooShort, Dwayne Johnson, Kevin Bacon, Luke Perry, Jack Black, Will Smith, Jaden Smith, Tom Green, Mac Miller, Tiger Woods, Rowan Atkins and George Clooney who have all... at some time or the other in the recent past... been "killed" by Twitter.
One only hopes Selene Gomez has not heard of this new trend!