The smartphone landscape is set to change in 2013, but this won't have anything to do with the iPhone 5S or Samsung Galaxy S4, instead it will be the year we see a whole range of new mobile operating systems come to market. Alistair Charlton investigates.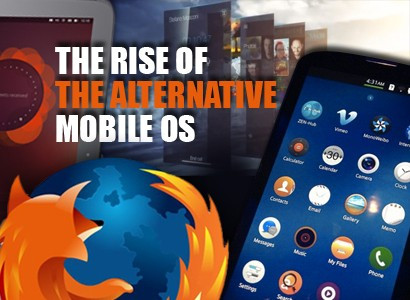 Firefox, Ubuntu Touch, Tizen and Sailfish are all mobile operating systems that are currently in development and will arrive on devices dubbed 'smart featurephones' later this year.
Beginner's Guides:
Rather than challenge hig-end smartphone from the likes of Apple, Samsung and Sony, these new operating systems will initially arrive on cheaper phones and allow carriers to have more control over the content they ship with.
Gartner analyst Roberta Cozza told IBTimes UK: "Carriers will address the lower end of the market with a Mozilla Firefox phone because they don't want to be as reliant on Google, and Mozilla will give them more space to customise and push their own service and applications to consumers."
Cozza said she expects Mozilla's Firefox OS to be the most successful of the four upcoming operating systems, as it is already a recognised name in the technology sector, and has confidence from users of its Firefox web browser.
Mozilla previewed the Firefox OS at Mobile World Congress last month, while Chinese manufacturer ZTE showed off the the first phone to run it, the Open.
As for where devices from Mozilla and others will arrive first, all eyes are on emerging markets, with Europe further down the road. Cozza said: "They will start in emerging markets but I wouldn't be surprised if we see them in western Europe like we've seen with the [Nokia] Asha devices.
"They're called feature phones but are more smartphone-like with their applications. The main objective will be to start in emerging markets first. Then the biggest challenge will be for them to deliver value against the lower Android phones...maybe Firefox will be cheaper, but I'm not so sure."
Price
Neither ZTE or fellow Firefox phone manufacturer Alcatel have yet announced pricing for the handsets, but have both said they will initially target the emerging markets of South America and Western Europe.
Sharing the same name as its web browsers, the Firefox mobile operating system was first previewed at Mobile World Congress almost a year ago under the codename Boot to Gecko, but now Mozilla claims the OS will be finished within weeks, arriving towards the end of 2013.
Initially, Firefox OS will run on low-end devices with processors of 1GHz or less, and the company has said the OS will eventually be modified to work with more powerful handsets, but for now it is concentrating on the low end through ZTE and Alcatel.
Local content on these devices will be important, Cozza claims. "Big players like Apple and Google are not able to localise content and this is where Nokia has been very good with its Asha range for emerging markets. Users of older feature phones will be looking to upgrade, so there becomes an opportunity for Mozilla there."
Asha
Nokia's Life+ app for its Asha phones provides localised information on education and health, and advice ranging from how to prepare for a new job, to hygiene and personal fitness. This service acts as a stepping stone between the text-based services of old feature phones, and the full web access of smartphones.
Microsoft recently set up a similar initiative, 4Afrika, which includes the use of a Huawei smartphone full of localised information to help educate African teenagers on how to create a business.
While Firefox sets its sights on emerging markets, Jolla's Sailfish OS, which has emerged from the ashes of Nokia's ill-fated MeeGo OS, is tipped to be available on smartphones in the much higher $500 - $800 (£320 - £515) range, and with initial focus on the Asian markets, specifically China.
When asked about the expected high price Cozza said, without hesitation: "Yes, that's the problem. When you go to the high end, users are looking for richness of apps, both in quality and quantity, and it can't just be a smartphone now, users get locked into an ecosystem that enables them to do more, talk to tablets and other services for example. That's a big challenge, and even Windows Phone and Nokia are having difficulties with this.
"Even if they [Jolla] find a niche or a specific region where they can succeed, I think it's going to be an uphill battle."
'If Windows and Nokia are struggling...'
Cozza is optimistic that at least Mozilla will succeed in the smart/feature phone arms race, but concedes that the prize will be small. "It's going to be very hard to gain market share. Altogether these other operating systems [Firefox, Sailfish, Ubuntu, Tizen] will have a single digit share of the smartphone market by the end of this year.
"I don't think it's going to be higher than one percent, so I think it's going to be very, very challenging."
Fellow Gartner analyst Michael Gartenberg points out that if even Microsoft can't challenge the leaders with Windows Phone 8, then anyone smaller will surely struggle: "In a market with solid, established platforms such as Windows Phone attempting to challenge leaders such as iOS and Android it's hard to see these smaller players with little ecosystem and few services and apps presenting a real threat.
"Even in those [emerging] markets there are established alternatives with Android."
It is easy to get excited about the prospect of four new mobile operating systems hitting the market and giving consumers more choice, but it will take huge investment, smart advertising and some luck to steal any ground from the well-established competition.
"Overall," Cozza concludes, "these platforms...I remain sceptical."