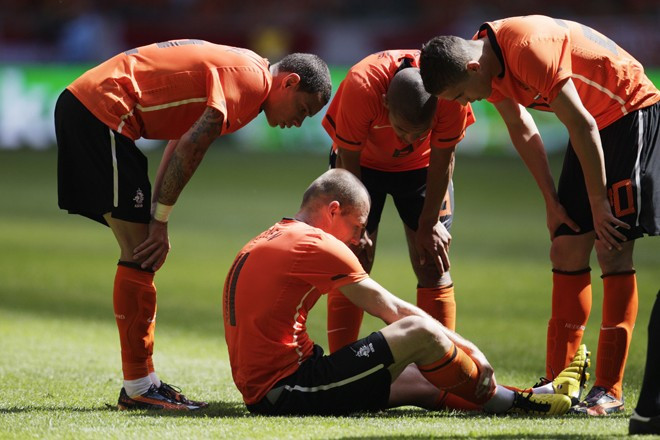 Dutch forward Arjen Robben has been asked by his Holland teammates to think about his future at the Allianz Arena following incidents of the 28 year old being booed by the German club's fans during Bayern Munich's friendly clash with Dutch national side.
Robben, who missed an important penalty against Chelsea in the final of Champions League, was booed by Bayern Munich fans when he came on as a substitute (for Holland) in the 75th minute. Although Robben did not react to this incident, his international teammates, who were eventually beaten 2-3 by the German club, were very furious to see to see the crowd's reaction when the former Chelsea man took to the pitch.
"It's absolutely outrageous how the fans treated Arjen. You only have to look at what he has accomplished there. He scored a penalty against Real Madrid in the (Champions League) semi-finals," said Holland captain Mark van Bommel, according to an ESPN report.
"People seem to have forgotten that. They should be pleased to have such a player. A large part of the German crowd booed their own player. That cannot happen. If I was Arjen, I would start thinking about whether I still want to play football there, even if my contract has just been renewed," the Metro reported van Bommel as saying, and adding, "Arjen is very strong mentally, and comes back stronger each time after every setback. I don't know what Arjen is going to do but this is a disgrace."
Dutch playmaker Wesley Sneijder, who was also angered by the crowd's reaction towards Robben, asked his teammate to join him at Inter Milan.
"The fans' reaction was absolutely disgraceful. And that's not all. It's also remarkable to see that nobody at Bayern has defended him," said Sneijder, according to a report in ESPN.
"They are pushing him away from the club like this. It has been a very disappointing evening for Arjen. If it's up to me, he'll move to Inter this summer," Goal.com quoted Sneijder as saying.
However, Bayern Munich, who seem to be keen on keeping Robben, have said they do not have any regrets about their star forward's performance in the Champions League final. Also, Bayern CEO Karl-Heinz Rummenigge says the fans have apologised for their conduct during that game.
"Just like the other players, fans and friends of Bayern, Arjen Robben is deeply disappointed and affected by the undeserved defeat on penalties against Chelsea," said Rummenigge, according to the Guardian.
"But it is the style of Bayern and their fans to give the one who has fallen down the hand and help him. This morning we have received a lot of reactions from Bayern fans who apologise on behalf of those who whistled," he added.