Manchester United and Bayern Munich are both interested in Borussia Dortmund striker Robert Lewandowski, according to the player's agent Cezary Kucharski.
Lewandowski has scored 21 goals this season for Dortmund, including in each of his last seven starts, the latest coming in the 2-2 Champions League last 16 draw against Shakhtar Donetsk.
United are regarded as long-term admirers of Lewandowski, while Bayern having reportedly struck a deal to sign the 24 year old, with relations between the two clubs now at breaking point.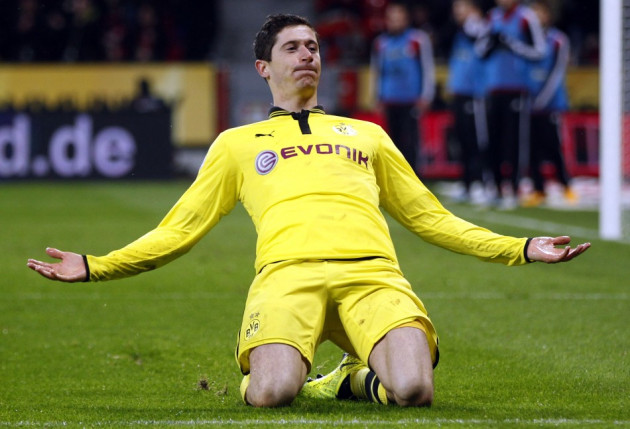 "Many clubs are interested in the player, in particular Manchester United," Kucharski said. "Bayern Munich? I know something, but no further details."
While United possesses four strikers in Wayne Rooney, Danny Welbeck, Robin van Persie and Javier Hernandez, Bayern themselves have a trio of Claudio Pizarro, Mario Manzukic and Mario Gomez, while Thomas Muller has chipped in with 11 goals this season.
Munich chairman Uli Hoeness said: "The fact is we have three top-class strikers. Therefore we are in no rush or need of new strikers," he told Bild.
"In the past we may have bought a certain player under the thought of weakening a rival. But that can only be an add-on aspect.
"The main aspect for any transfer is: does this transfer strengthen the team?"
However, former Bayern legend Lothar Matthaus says a deal for Lewandowksi to move to the Allianz Arena is already complete, a deal worth in the region of €25m.
"I was on the road this week. I heard that Lewandowski has an agreement with Bayern. Only the date of the move remains undecided," Matthaus told Sky Bundesliga.
"Lewandowski's contract runs out in 2014 and Dortmund will only get a fee in 2013 - surely a high fee. I heard it was something between 25 and 30 million euros, otherwise he will go to Bayern for free next year."
Bayern produced a performance in front of goal against Arsenal which did little to suggest they require extra fire-power ahead of next season and the arrival of Pep Guardiola, with Toni Kroos, Muller and Manzukic all netting to put the German league leaders on the brink of the last eight.