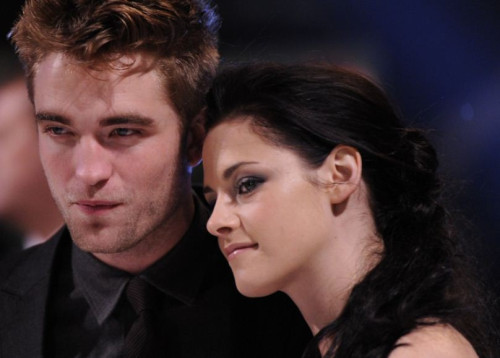 Robert Pattinson and Kristen Stewart celebrated Valentine's Day in their own special way, in spite of being physically and emotionally apart.
According to HollywoodLife.com, K-Stew clicked some 'cute' pictures of herself cuddling with their pups Bear, Bernie and Bailey and sent them to Pattinson who is currently in Morocco.
Not particularly known as the romantic type, Stewart found her own special way to show the Twilight actor how much she cares.
"Kristen sent Rob some really cute photos of Bear, Bernie and Bailey all cuddling, along with some silly selfies," a friend of Stewart told Hollywood Life.
"Kristen and Rob have never gotten into the whole Valentine's Day thing too seriously, but they have always made a point to do something for each other. Kristen likes to keep it light and fun and Rob has always been a bit more traditional and romantic."
Even though R-Patz and K-Stew might be going through a challenging phase in their relationship, it doesn't stop them from expressing their love and concern towards each other.
"It's really sweet because it's a testament that they both are still crazy about each other," the source says. "On the most romantic day of the year, they are thinking about each other."
According to the report, Pattinson also sent a bouquet of flowers to Stewart for Valentine's Day. "Rob is good with stuff like that," the source stated. "He has sisters that trained him well. He wanted to make sure that Kristen knows she still matters to him."
Pattinson has been filming in Morocco for the last few weeks along with Nicole Kidman. He plays British army explorer T.E. Lawrence. As his shooting schedule has come to an end, the 27 year-old star will soon be returning home.
The couple dated for four years before splitting up in May 2013.
View photos of Kristen Stewart's latest photo shoot for Marie Claire below: