Barcelona have rubbished talk of a move for Arsenal captain Robin van Persie.
The 28-year-old has just a year to run on his current deal at the club, following a goal-laden season with the north Londoners.
Van Persie was photographed visiting Barca's team hotel prior to the Catalans' Champions League semi-final first leg against Chelsea last week, an incident that added clout to rumours of a possible move to the Nou Camp, claims the European Cup holders have since rejected.
"For Barça, any good player is of interest - and Van Persie is a great player. But [we have] no intention of signing him for now," club spokesman Toni Freixa told The Sport Review.
"He came to our hotel in London because he is Dutch and so is Ibrahim Afellay. They had a coffee together. He didn't come to see us and there was no conversation."
Prior to the weekend visit of Chelsea, Van Persie used his matchday programme notes to clear up any confusion, claiming the meeting with Afellay was not the precursor to talk of a permanent move to Spain.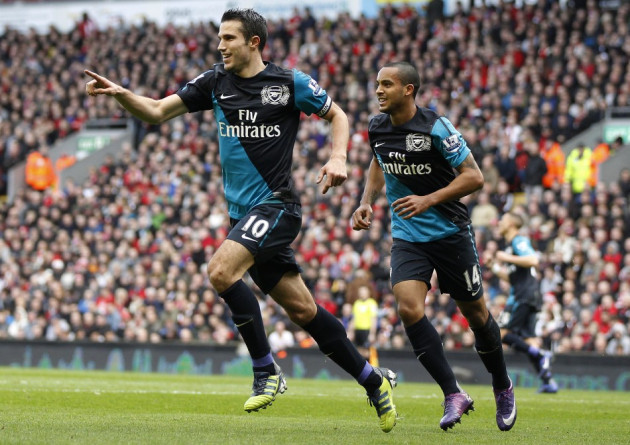 "The explanation is really very simple. My very good friend Ibrahim Afellay plays for Barcelona," he wrote in Arsenal's official matchday programme.
"After a bad long-term injury, he was finally back with the team - and during his absence I had been in contact with him a lot, but I hadn't seen him.
"This was an opportunity for me to go and visit a close friend, show him my support and catch up.
"Unfortunately, this had to be at the hotel, because he was not permitted to leave it.
"I was wearing my Arsenal tracksuit and we sat down by the reception to have a chat and some food - everyone could see us and there was nothing to hide.
"I can't imagine anyone conducting transfer negotiations in these circumstances!"
The Netherlands international is yet to agree a new deal with The Gunners leading to speculation that the skipper will follow in the footsteps of Gael Clichy and Samir Nasri, both of whom left the club last summer in the final year of their contracts.
Manager Arsene Wenger has previously stated he would prefer to see Van Persie run down his contract as oppose to depart for a substantial fee this summer, but that hasn't halted speculation linking him with moves to Juventus and Manchester City.
Unsettling talk surrounding Van Persie's future comes amid a season in which he's scored 34 goals, and put Arsenal on the verge of Champions League qualification.
His individual feats have earned him the Professional Footballers Association Players' Player of the Year award and the Football Writers' Association Player of the Year, while he leads the race for the Premier League golden boot having scored 27 goals domestically.