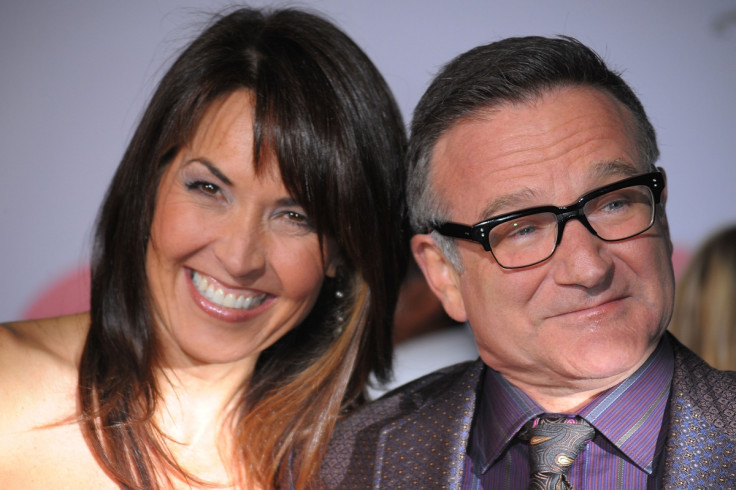 In her first interview since her husband's death, Susan Williams has opened up about Robin Williams' battle with Parkinson's disease, disclosing that they believed him to only have three years left before his took his own life.
The award-winning comedian and actor committed suicide in August 2014, but he had been previously diagnosed with Parkinson's. Susan said such a life would have been a living nightmare for him.
Talking with ABC News, Susan said: "If Robin was lucky he would have had maybe three years left, and they would have been hard years, and it's a good chance he would've been locked up.
"I've spent this last year trying to find out what killed Robin, to understand what we were fighting, what we were in the trenches fighting. One of the doctors said Robin was very aware that he was losing his mind and there was nothing he could do about it."
She described how it was hard to watch as her husband disintegrated before her eyes due to the disease and touched upon how he was also suffering with Lewy body dementia, which was only discovered by professionals when they conducted a post-mortem examination.
The condition would have caused him physical difficulties as well as possibly making him act oddly compared to his usual behaviour.
Remembering her last conversation with Robin, Susan said that on the night before he was found dead, he was adamant she needed a foot rub before she went to sleep. But she refused his seemingly random offer.
"I said 'It's OK honey. You don't have to tonight'," she told ABC. "And I'll never forget the look in his eyes of just, sad, because he wanted to. Then he laughed. And he said 'Goodnight my love'. And I said 'Goodnight my love'."
That same night, the Mrs Doubtfire star went to sleep in a different bedroom than Susan and wasn't seen by his wife as she went off to work the next morning. He was found hanged later on in the day by his personal assistant.
"That 20-minute car ride, I just screamed the whole way 'Robin!' I just wanted to see my husband," she said. "And I got to see him , and I got to pray with him. And I got to tell him 'I forgive you 50 billion per cent, with all my heart. You're the bravest man I've ever known'. You know, we were living a nightmare."
---
The Samaritans provides a free support service for those who need to talk to someone. It can be contacted through Samaritans.org or on 08457 90 90 90, 24 hours a day, 365 days a year. Call charges apply.
---