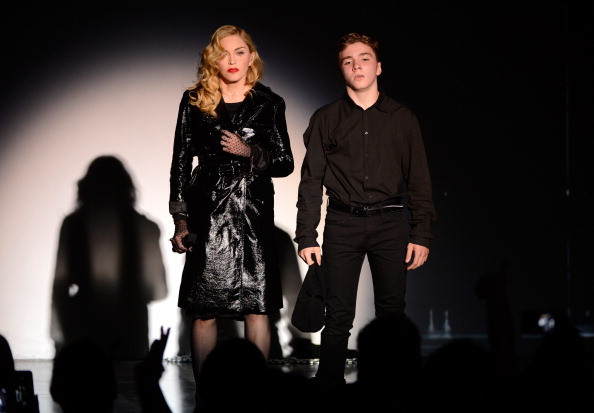 Rocco Ritchie is back in New York now that Madonna is apparently working out a custody battle for her son with former husband Guy Ritchie — and is patching up things with her son.
The 15-year-old was spotted with big sister Lourdes Leon and Madonna in Manhattan, where his mum has a home. All three were wearing spooky white masks, and heading to the Broadway play Sleep No More. Audience members are asked to wear masks throughout the dark play which is loosely based on MacBeth.
He was seen the next day laughing and joking with friends on a Manhattan street. Ritchie's attorney said the deal isn't done, but the couple is close to a custody arrangement.
"The fat lady has not sung," lawyer Peter Bronstein told Page Six of the New York Post. "We're close," Bronstein said. "The case is not settled but we're very hopeful."
Rocco "is visiting his mother as we speak in New York," Bronstein said, adding that the trip was not part of the pending settlement agreement, but was rather "worked out among the family."
A scheduled Manhattan Supreme Court hearing was postponed until 14 June.
"Hopefully whatever issues remain will be resolved," by that date, Bronstein said.
Madonna has had legal custody of Rocco since 2008 following the breakup of the power couple's 2000 marriage. But mother and son had been estranged for several months ever since Rocco walked off the singer's Rebel Heart World Tour apparently in a snit over Madonna's strict rules, and jetted to London to stay with Guy.
In late 2015 the 57-year-old singer filed an order in London demanding that Rocco return home to Manhattan under child abduction laws. But Rocco refused. Madonna eventually visited her boy twice in London in a bid to work on their relationship.
In March a judge urged the singer and the 47-year-old film director to work out their differences over their son, warning that their son could by hurt in their continuing dispute.
"No one is disrupting his household other than the inability of the parents to reach a resolution," said State Supreme Court Judge Deborah Kaplan. "If they cannot resolve this matter then eventually the court will."
"Frankly, both parties here have chosen to live their lives in a very public way, and may welcome the exposure, but the child has not," she said. "I urge them to consider what is the best interests of their son - which may be to remove him from the spotlight."