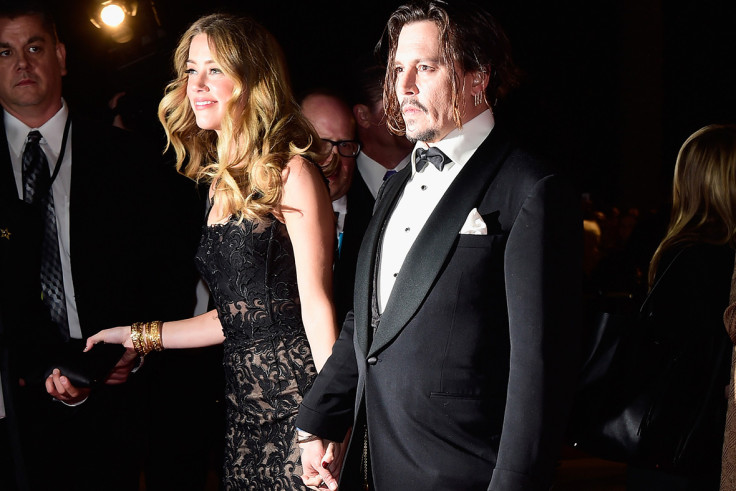 A close friend of Amber Heard has sensationally claimed that Johnny Depp tried to suffocate the actress with a pillow during a drunken assault. The friend of the star whose identity has not been revealed, described the details of the alleged attack.
The friend said she found the Danish Girl actress in the LA apartment she shared with Depp 'battered and bruised', and with a chunk of hair missing from her head after the alleged attack which reportedly happened in December 2015.,
She told New York Post's Page Six: "This incident really stuck with me because she confided in me that day that she feared for her life after an intoxicated Johnny tried to suffocate her with a pillow."
She revealed it was not the first time she became aware that the couple's turbulent marriage was marred by violence. She described how the pair became embroiled in an altercation in March 2015 in Austrailia where Depp was shooting Pirates of the Caribbean: Dead Man's Chest in Australia.
The confidante claims Depp punched a wall during the fight injuring his hand and had to fly to the US to undergo surgery to have a pin put in one of his fingers. Filming was suspended for a month as he recovered from his injuries Entertainment Tonight reports. While the actor was photographed boarding a private jet from Brisbane, Australia, on March 11, 2015, with his hand covered in a bandage, the cause of the injury was not revealed at the time.
On 27 May, the 30-year-old actress was granted a temporary restraining order against her estranged husband after she accused him of domestic violence. Heard alleged that she 'lived in fear' of his violent outbursts during their 15-month marriage.
In a court declaration she said: "I endured excessive emotional, verbal, and physical abuse from Johnny, which has included angry, hostile, humiliating, and threatening assaults to me whenever I questioned his authority or disagreed with him. I live in fear that Johnny will return to [our house] unannounced to terrorize me, physically and emotionally."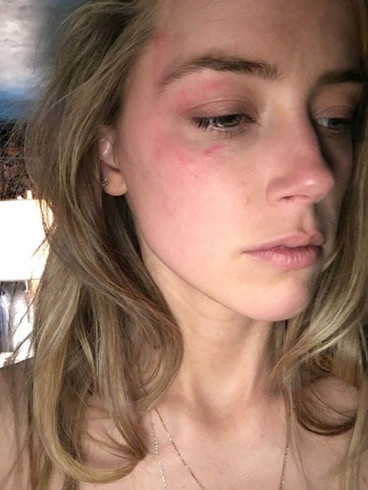 She is also submitted photographs of her injuries after she alleged he threw an iPhone at her, leaving her face bruised. Police were called to the scene, however the actress had initially decline to file a formal complaint.
In a statement, Heard's lead attorney, Samantha F Spector, and her co-counsel Joseph P Koenig, said the actress was prompted to speak up after she faced a backlash and accusations that she was blackmailing the movie star for money.
The statement further claims that the 'relentless' attacks on her character are typical of how victims of domestic violence are treated when they attempt to speak out.
"As the result of Amber's decision to decline giving an initial statement to the LAPD, her silence has been used against her by Johnny's team. Amber did not provide a statement to the LAPD in an attempt to protect her privacy and Johnny's career.
"Johnny's team has forced Amber to give a statement to the LAPD to set the record straight as to the true facts, as she cannot continue to leave herself open to the vicious false and malicious allegations that have infected the media.
"Amber has suffered through years of physical and psychological abuse at the hands of Johnny. In domestic violence cases, it is not unusual for the perpetrator's playbook to include miscasting the victim as the villain. With her statement Amber hopes to give the LAPD the opportunity to conduct an accurate and complete investigation into the events of that evening and before.
"If that occurs, and the truth is revealed, there is no doubt that Amber's claims will be substantiated beyond any doubt, and hopefully Johnny will get the help that he so desperately needs. From the beginning it has been Amber's desire to keep this matter as private as possible, even though LAPD officers responded to a 911 call made by a third-party.
"The LAPD officers viewed not only the disarray that Johnny had caused in the apartment but also the physical injuries to Amber's face."
Since the allegations of domestic abuse have arisen, friends and family of Depp have come forward in his defence, including his ex-wives and his daughter, Lily-Rose who described him as "the most loving person I know."
Comedian Doug Stanhope has backed Depp's claims that the allegations are nothing more than an attempt to profit from the split, the Mail Online reports. He alleges that Heard threatened to make slanderous accusations against Depp "in any and every duplicitous way" if he did not agree to her terms.
In response to the allegations of domestic abuse, Depp's team claimed that the accusations levelled at him were motivated by financial gain. The Independent reports that Depp's lawyer Laura Wasser said in a statement: "Amber is attempting to secure a premature financial resolution by alleging abuse. Her current application for a temporary restraining order along with her financial requests appear to be in response to the negative media attention she received earlier this week after filing for divorce."
The Hollywood couple first met on the set of The Rum Diary, shortly after the father-of-two ended his 14-year relationship with French actress Vanessa Paradis. They married in February 2015, after dating for three years.