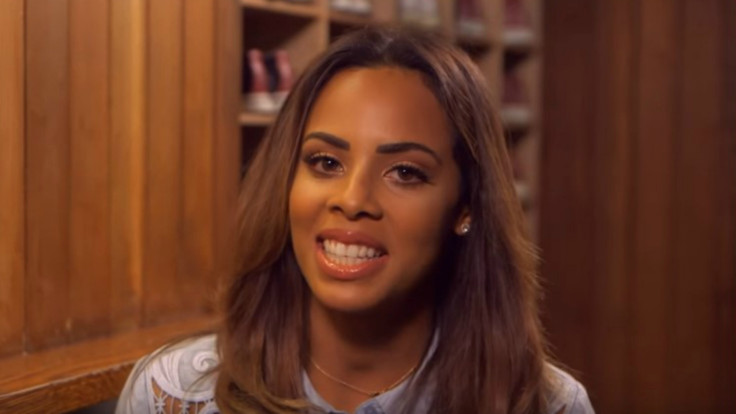 The Saturdays singer Rochelle Humes has divided fans after framing her newborn daughter's umbilical cord. It comes after the 27-year-old and husband Marvin Humes welcomed their second child, Valentina Raine, on 10 March.
In an Instagram photo shared on 12 March, Rochelle displays a pink photo frame with what appears to be the umbilical cord shaped into the word "love". Also seen is a bottle of Placenta Plus tablets, which are typically made from the mother's placenta. The Ninja Warriors presenter captioned the image: "After being very curious I took the plunge, so excited to feel the benefits..Thanks so much Danielle @placentaplus."
Many of Rochelle's Instagram followers were shocked by the image, with one commenting: "There are lots of bodily functions etc that have helped create and bring a beautiful baby safely into the world but we don't have to frame all the gory bits."
Another said: "I'm all for doing your own thing, but I really do think it's odd that Rochelle Humes has framed the umbilical chord to spell out 'Love'." One other critic weighed in: "The sad thing is she was probably sponsored to do this, making money of a new born child."
However, fans of the What About Us singer have swooped in to defend the star against the backlash.
One stated: "The only 'sick' thing about this is all the nasty comments! Rochelle can do what she wants, there's nothing wrong with this at all! Leave her alone she's just had a beautiful baby and doesn't need this kind of negativity!" while another said: "I don't see why people feel the need to comment with negative things.. yes it may not be to some of your tastes, but then just scroll past and do not comment. I think it's a lovely thing to do, although I wouldn't do this myself either, I still think it's beautiful!"
Rochelle and Marvin, 31, are already parents to three-year-old daughter Alaia-Mai. Other celebrities who have admitted to taking tablets made from their own placentas include Kim Kardashian, Coleen Rooney and January Jones. According to the Placenta Plus website, benefits from taking the tablets include a boost in energy levels, faster recovery from birth and decreased incidence of postnatal depression.