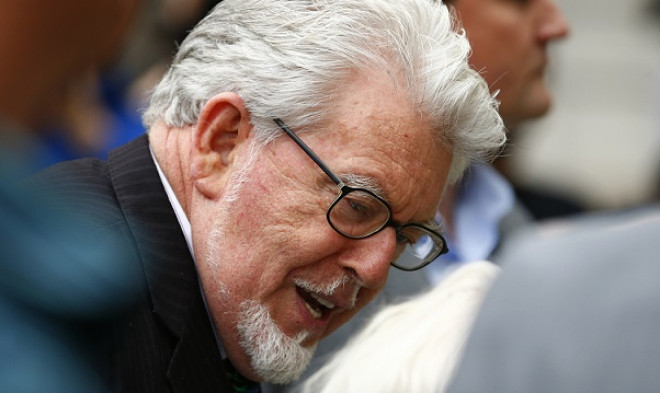 Rolf Harris barked like a dog on all fours, before groping a teenage girl, a court heard today.
A 52-year-old woman alleges that she was molested by the TV personality when she was 13 or 14 years old, while working as a waitress at It's A Celebrity Knockout.
Recounting the incident she said she was asked to investigate a "barking dog noise" and found Harris on all fours barking at a dog.
The witness said that Harris then came up to her and put his arm around her shoulders before groping her.
She said: "I couldn't believe what was going on; this famous person was putting his arm around me. I was nervous then he moved and went up and down my back, over my bottom. It happened quite a few times. It was uncomfortable. I was too young to understand. It was like groping. Very firm. He squeezed it a few times."
"I was completely frozen. I knew it was wrong. I didn't move. I was extremely embarrassed. He was not the slightest embarrassed," she explained.
The witness revealed that she went to the police and reported the incident following the investigations into Jimmy Saville and Harris stating "it happened to me and it would help back up someone else."
A second woman told the court how Harris allegedly indecently assaulted her when she was a young girl, after she approached him for an autograph.
The 84-year-old children's entertainer is said to have indecently touched the child, who was among dozens of children who had queued to get his autograph at a community centre in Portsmouth, in 1969.
Recounting the incident she said: "It was so quick, I thought 'what's just happened?' More or less instantly his hand was back again. Straight up between my legs, aggressively, forcefully, as if it didn't matter if it was going to hurt me, I knew then it wasn't an accident.
"I understood it was wrong. I wanted to get away. I wanted to scream out 'what are you doing?' but it wouldn't come out. He scared me. His eyes were fixed. He was carrying on as if nothing had happened," she said.
The 52-year-old woman denied suggestions that Harris had not been to the community centre and that she had not been indecently assaulted by him.
The jury was also told about another victim whom Harris allegedly touched inappropriately during a book signing in Portsmouth.
An earlier witness, who was a friend of Harris's daughter, alleged that he repeatedly sexually abused her while she was on holiday with his family in Australia.
Harris is accused of indecently assaulting four girls and women between 1968 and 1986 and denies the 12 charges.
His wife Alwen was not in court to hear the latest witness statements.
Harris, 84, is accused of 12 counts of indecently assaulting four female victims aged between eight and 19 years-old, between the years of 1968 and 1986.
He denies all charges. The trial continues.