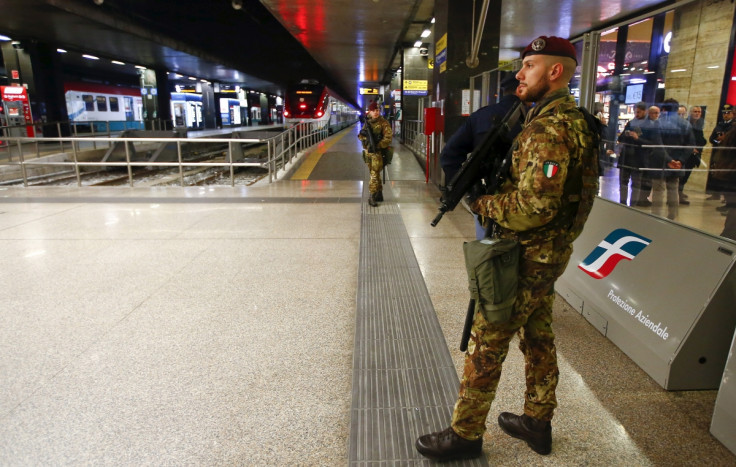 A man carrying a toy gun sparked a major terror alert in Rome late yesterday (25 January 2016), with the main train station placed under lockdown as security forces searched the premises amid scenes of panic. Roma Termini station was evacuated and passengers told to remain in their carriages on the evening of 25 January, after a gunman was reported in the area.
Local media released security-camera images showing a man in a light blue jacket and white hat walking around with what appeared to be an automatic rifle. Police and the military combed the station and nearby stops of the city's transport network, as the suspect was earlier spotted on the underground train network.
Commuters rushed to take cover amid fears that the Italian capital could be the target of an Islamist attack in the style of those that hit Paris last year. "We were really scared. It was terrible. We fled without even closing the cash register," a shopkeeper told Ansa news agency.
"We hid in bars and shops inside the station," a passenger told Il Corriere della Sera. "It was like scenes we have been recently seeing on television. The search however proved fruitless and the station was reopened after about 30 minutes.
The suspect was eventually stopped by an out-of-duty policeman at another train station in the small town of Anagni, around 37 miles south east of Rome. He reportedly explained that the rifle, which had the traditional red cap to identify it as a toy, was a present for his son. Unaware of the manhunt under way, the policeman let the 40 year old go. He is now sought again on accusation of causing false alarm.
The incident underscores public fears of possible terrorist attacks in Rome as the city, which is currently hosting celebrations for an extraordinary Holy Year called by Pope Francis, has been previously singled out as a target by Islamic State (Isis).
For the Jubilee opening, on 8 December 2015, the government deployed 2,000 police officers across the capital, set up metal-detector checks at accesses to the Holy See and enforced a no-fly zone over the city centre.