Kate Middleton got to feed a young elephant and play with a baby rhino during a visit to the Centre for Wildlife Rehabilitation and Conservation (CWRC) at Panbari reserve forest in Kaziranga, in the northeastern state of Assam, India.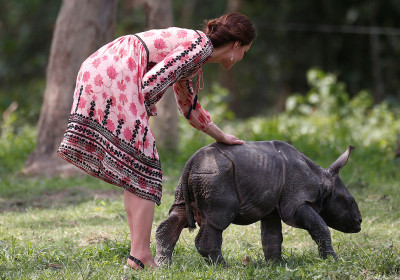 Prince William and Kate Middleton headed out in a jeep first thing in the morning for a wildlife safari at the Kaziranga National Park, home to the world's largest population of the rare one-horned rhino. The global conservation group WWF estimates there are about 3,500 left in the world, mostly in north-eastern India, with a few hundred in neighbouring Nepal.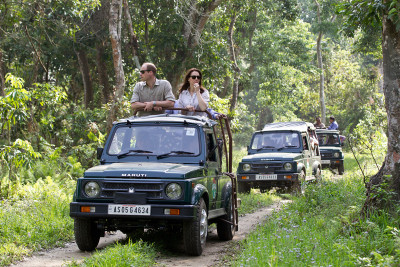 Although their numbers have increased significantly since the early 1990s, when their numbers were estimated at fewer than 2,000, the animals are under threat from wildlife poachers and habitat loss. Already this year, six rhinos have been killed for their horns, after 20 were poached in 2015.
The royal couple were joined by a park official as guide on a tour across dirt tracks, tall grasslands and thick evergreen forest. They met a group of forest rangers and wildlife wardens at an anti-poaching camp inside the reserve, which is also home to other endangered species such as swamp deer and the hoolock gibbon. VS Bhaskar, a top Assam state government official, said the royal couple saw rhinos, wild boars, buffalo, hog deer and a variety of birds.
Prince William asked the forest rangers about the conservation challenges they face, he said. The rangers told him that the poachers were using sophisticated automatic weapons, whereas the forest guards had old rifles, which were being upgraded.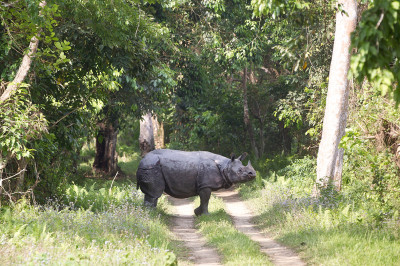 The royal couple had enjoyed an evening around the campfire as local artistes performed folk dances. The royal couple's visit comes a day ahead of Assam's local festival, Bihu, which marks the beginning of Assamese New Year and signifies the time of harvest.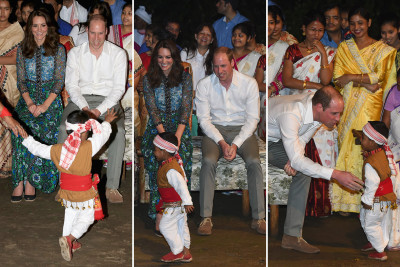 The couple have spent much of their first three days in India meeting children and charities which work with them. They will leave for the isolated Himalayan kingdom of Bhutan on Thursday (April 14), before returning to India on Saturday (April 16) to visit the Taj Mahal.