When Prince William and Kate Middleton visit Bhutan, they may encounter the Himalayan kingdom's most unusual tradition: giant penis murals. Phallic symbols are everywhere in Bhutan, particularly in rural areas. Ten-foot-tall graphic images are painted on the walls of homes. Giant carved wooden erections adorn the entrances to temples, while smaller ones hang from the eaves of houses and dangle from the rear-view mirrors in cars.
Some of the paintings and carvings are very explicit and detailed. It is believed they aid in fertility, ward off evil spirits and dispel malicious gossip.
The use of phallic symbols can be traced back to a Tibetan Buddhist monk named Drukpa Kunley (1455–1529), popularly known as the Mad Saint or Divine Madman. He was based at the Chimi Lhakhang monastery near Punakha, the former capital of Bhutan. Kunley used sexual intercourse, alcohol and dirty poetry to spread Buddhist teachings.
He was known for using his penis to spread enlightenment. His unusual methods of teaching earned him the title The Saint of 5,000 Women. Kunley's penis was called the Thunderbolt of Flaming Wisdom, as it could unnerve and subdue demonesses. He is also reported to have lectured entire villages, using farts to illustrate the concept of impermanence.
IBTimes UK presents a gallery of Bhutan's phallic murals (they may be spiritual, but they're also probably NSFW).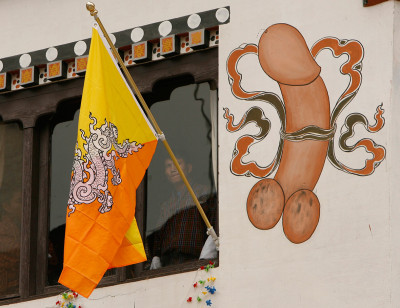 Prince William and Kate Middleton will head to the Himalayan kingdom of Bhutan on 14 April, at the invitation of King Jigme Khesar Namgyel Wangchuck and Queen Jetsun Pema. Bhutan's royal couple – often dubbed the Wills and Kate of the Orient – married in October 2011, around six months after the British royal wedding. The young royal couple had a son in February 2016. After a traditional Bhutanese welcome ceremony, the royal couples will have dinner at Lingkana Palace in the capital, Thimphu.
The Duke and Duchess of Cambridge will hike for around six hours to reach Paro Taktsang monastery, also known as the Tiger's Nest. The monastery was built in the 17th century on the side of a cliff, around a cave that was the focal point for Guru Padmasambhava, who is credited for introducing Buddhism to Bhutan.