Russia: Is Vladimir Putin Punishing McDonald's Over West's Ukraine Sanctions?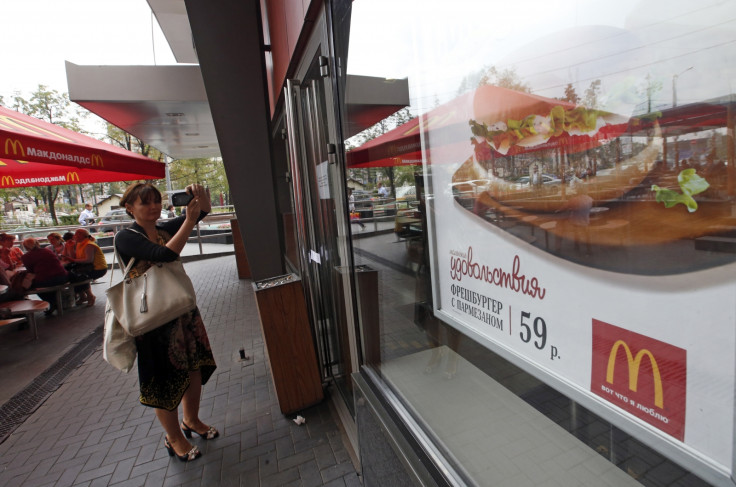 Russian authorities have now temporarily shut down twelve McDonald's restaurants in the country and are investigating a hundred others over health concerns.
Four more were shuttered over allegations that Russian health and safety rules have been breached, something US fast food chain McDonald's denies. There are 440 McDonald's restaurants in Russia.
The closures and investigations come amid a tit-for-tat sanctions battle between the West and Russia over the latter's interference in Ukraine.
Russia has already banned the imports of many Western food products. The US and European Union (EU) have put in place curbs on military equipment exports and restricted the capital and visas of some of the most powerful and wealthy Russians.
"We are closely studying the content of the agency documents to determine what should be done to re-open the restaurants as soon as possible," said a spokeswoman for McDonald's head office in the US.
"We do not agree with the court's decision and will appeal against it in accordance with the procedures established by the law.
"Our main priority is to serve our customers with top quality menu items. We will continue taking care of our employees and will do our best to continue the success of McDonald's business in Russia."
The Russian consumer protection agency responsible, Rospotrebnadzor, denies any connection between its recent actions against McDonald's and the political tensions between Russia and the West. It said it has reacted to complaints about the company.
Russia has reportedly launched a full-scale invasion of Ukraine on the orders of President Vladimir Putin by deploying soldiers, tanks and artillery over its border with the former Soviet state.
For several months Russia has been helping separatist rebels in the east of Ukraine with arms and supplies. Russia had already annexed the Ukrainian region of Crimea.
The troubles followed the ousting of Kremlin-allied President Viktor Yanukovich by protesters in Kiev after he tried to bring the country closer to Russia instead of forging greater economic and political ties with the EU as had been hoped by many Ukrainians.
© Copyright IBTimes 2023. All rights reserved.