Ryanair cancelled flights full list: Check your booking here
Thousands of flights have been cancelled over the next six weeks.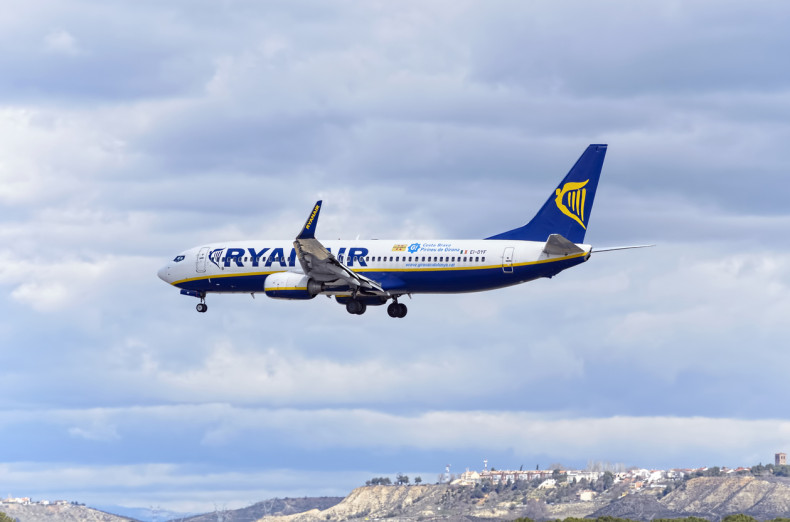 Ryanair has released a list of flights that are set to be cancelled in the coming days, after it was revealed that a mistake in staff rotas would cause thousands of journeys to be axed.
A total of 82 flights were grounded on Sunday (17 September), with almost 2,000 more cancellations due over the next six weeks.
But the airline is coming under increasing pressure to publish the full list of cancellations for the next six weeks to allow customers to plan their journeys.
Ryanair's chief marketing officer, Kenny Jacobs, said: "We will cancel 40 to 50 flights daily for the next six weeks, less than 2% of our schedule, with a slightly higher number initially, as we begin to implement these cancellations.
"Flights are operating as scheduled unless an email confirming a cancellation has been received. Cancellation notices for flights cancelled up to and including Wednesday 20 September have been sent to affected customers and posted on the Ryanair.com website.
"We will continue to send regular updates and post flight information on our website, with the next set of cancellations to be issued on Monday. We apologise sincerely to all affected customers for these cancellations."
Details about the flights and compensation can be found here.
Cancelled flights
Monday 18th September
| | | | |
| --- | --- | --- | --- |
| Date | Flight Number | Departure | Arrivial |
| 18/09/2017 | 3105 | Amsterdam | Dublin |
| 18/09/2017 | 4585 | Barcelona El Prat (BCN) | Porto |
| 18/09/2017 | 6394 | Barcelona El Prat (BCN) | Dublin |
| 18/09/2017 | 9811 | Barcelona El Prat (BCN) | London Stansted |
| 18/09/2017 | 4545 | Barcelona El Prat (BCN) | Porto |
| 18/09/2017 | 6305 | Barcelona El Prat (BCN) | Milan Bergamo |
| 18/09/2017 | 2083 | Birmingham | Madrid |
| 18/09/2017 | 509 | Bristol | Dublin |
| 18/09/2017 | 1453 | Brussels | Dublin |
| 18/09/2017 | 1452 | Dublin | Brussels |
| 18/09/2017 | 3104 | Dublin | Amsterdam |
| 18/09/2017 | 562 | Dublin | Manchester T3 |
| 18/09/2017 | 114 | Dublin | London Gatwick |
| 18/09/2017 | 508 | Dublin | Bristol |
| 18/09/2017 | 6395 | Dublin | Barcelona El Prat (BCN) |
| 18/09/2017 | 8882 | Edinburgh | London Stansted |
| 18/09/2017 | 8884 | Edinburgh | London Stansted |
| 18/09/2017 | 4171 | Frankfurt Hahn | Porto |
| 18/09/2017 | 4921 | Frankfurt Hahn | Ibiza |
| 18/09/2017 | 3342 | Frankfurt Hahn | Malpensa T1 |
| 18/09/2017 | 7493 | Glasgow International T2 | London Stansted |
| 18/09/2017 | 3502 | Hamburg | Manchester T3 |
| 18/09/2017 | 4922 | Ibiza | Frankfurt Hahn |
| 18/09/2017 | 2142 | Krakow | Manchester T3 |
| 18/09/2017 | 115 | London Gatwick | Dublin |
| 18/09/2017 | 3717 | London Stansted | Budapest T2B |
| 18/09/2017 | 2225 | London Stansted | Tallinn |
| 18/09/2017 | 1374 | London Stansted | Prague |
| 18/09/2017 | 2283 | London Stansted | Warsaw Modlin |
| 18/09/2017 | 124 | London Stansted | Anocona |
| 18/09/2017 | 32 | London Stansted | Oslo Torp |
| 18/09/2017 | 2860 | London Stansted | Luxembourg |
| 18/09/2017 | 7494 | London Stansted | Glasgow International T2 |
| 18/09/2017 | 9810 | London Stansted | Barcelona El Prat (BCN) |
| 18/09/2017 | 8881 | London Stansted | Edinburgh |
| 18/09/2017 | 8883 | London Stansted | Edinburgh |
| 18/09/2017 | 2861 | Luxembourg | London Stansted |
| 18/09/2017 | 6991 | Madrid | Milan Bergamo |
| 18/09/2017 | 2082 | Madrid | Birmingham |
| 18/09/2017 | 5444 | Madrid | Paris Beauvais |
| 18/09/2017 | 3021 | Madrid | Toulouse |
| 18/09/2017 | 561 | Manchester T3 | Dublin |
| 18/09/2017 | 3501 | Manchester T3 | Hamburg |
| 18/09/2017 | 2141 | Manchester T3 | Krakow |
| 18/09/2017 | 4005 | Milan Bergamo | Lourdes Pyrenees |
| 18/09/2017 | 6876 | Milan Bergamo | Krakow |
| 18/09/2017 | 6692 | Milan Bergamo | Madrid |
| 18/09/2017 | 6304 | Milan Bergamo | Barcelona El Prat (BCN) |
| 18/09/2017 | 33 | Oslo Torp | London Stansted |
| 18/09/2017 | 7479 | Paris Beauvais | Porto |
| 18/09/2017 | 5445 | Paris Beauvais | Madrid |
| 18/09/2017 | 4584 | Porto | Barcelona El Prat (BCN) |
| 18/09/2017 | 4017 | Porto | Malpensa T1 |
| 18/09/2017 | 7478 | Porto | Paris Beauvais |
| 18/09/2017 | 4546 | Porto | Barcelona El Prat (BCN) |
| 18/09/2017 | 3022 | Toulouse | Madrid |
Tuesday 19th September
| | | | |
| --- | --- | --- | --- |
| Date | Flight number | Departure | Arrival |
| 19/09/2017 | 9106 | Barcelona El Prat (BCN) | Fez |
| 19/09/2017 | 9107 | Fez | Barcelona El Prat (BCN) |
| 19/09/2017 | 2672 | London Stansted | Rome Ciampino (CIA) |
| 19/09/2017 | 2642 | London Stansted | Riga |
| 19/09/2017 | 8868 | London Stansted | Tours |
| 19/09/2017 | 372 | London Stansted | Biarritz |
| 19/09/2017 | 2372 | London Stansted | Gdansk |
| 19/09/2017 | 1905 | London Stansted | Bari |
| 19/09/2017 | 2466 | London Stansted | Szczecin |
| 19/09/2017 | 5992 | London Stansted | Madrid |
| 19/09/2017 | 5991 | Madrid | London Stansted |
| 19/09/2017 | 5462 | Madrid | Brussels Charleroi |
| 19/09/2017 | 5463 | Brussels Charleroi | Madrid |
| 19/09/2017 | 5317 | Madrid | Santiago Di Comp |
| 19/09/2017 | 5318 | Santiago Di Comp | Madrid |
| 19/09/2017 | 2361 | Szczecin | Warsaw Chopin |
| 19/09/2017 | 4111 | Milan Bergamo | Naples |
| 19/09/2017 | 5505 | Milan Bergamo | Nuremberg |
| 19/09/2017 | 5506 | Nuremberg | Milan Bergamo |
| 19/09/2017 | 5831 | Milan Bergamo | Bordeaux |
| 19/09/2017 | 5832 | Bordeaux | Milan Bergamo |
| 19/09/2017 | 5531 | Milan Bergamo | Cologne/Bonn |
| 19/09/2017 | 5532 | Cologne/Bonn | Milan Bergamo |
| 19/09/2017 | 8556 | Dublin | Berlin Schonefeld |
| 19/09/2017 | 8557 | Berlin Schonefeld | Dublin |
| 19/09/2017 | 5774 | Dublin | Glasgow |
| 19/09/2017 | 5773 | Glasgow | Dublin |
| 19/09/2017 | 1901 | Dublin | Krakow |
| 19/09/2017 | 1902 | Krakow | Dublin |
| 19/09/2017 | 6374 | Barcelona | Paris Beauvais |
| 19/09/2017 | 6375 | Paris Beauvais | Barcelona El Prat (BCN) |
| 19/09/2017 | 9111 | Barcelona | Turin |
| 19/09/2017 | 9112 | Turin | Barcelona El Prat (BCN) |
| 19/09/2017 | 6881 | Barcelona El Prat (BCN) | Mahon |
| 19/09/2017 | 6882 | Mahon | Barcelona El Prat (BCN) |
| 19/09/2017 | 9106 | Barcelona El Prat (BCN) | Fez |
| 19/09/2017 | 9107 | Fez | Barcelona El Prat (BCN) |
| 19/09/2017 | 2093 | Porto | Lisbon |
| 19/09/2017 | 3734 | Porto | Lorient |
| 19/09/2017 | 3733 | Lorient | Porto |
| 19/09/2017 | 7458 | Porto | La Rochelle |
| 19/09/2017 | 7458 | La Rochelle | Porto |
| 19/09/2017 | 7459 | Porto | La Rochelle |
| 19/09/2017 | 8347 | London Stansted | Porto |
| 19/09/2017 | 8348 | Porto | London Stansted |
| 19/09/2017 | 788 | Bologna | Eindhoven |
| 19/09/2017 | 787 | Eindhoven | Bologna |
| 19/09/2017 | 4301 | Bologna | Trapani |
| 19/09/2017 | 4302 | Trapani | Bologna |
| 19/09/2017 | 4348 | Bologna | Seville |
| 19/09/2017 | 4349 | Seville | Bologna |
| 19/09/2017 | 4087 | Faro | Manchester |
| 19/09/2017 | 4088 | Manchester | Faro |
| 19/09/2017 | 9207 | Faro | London Luton |
| 19/09/2017 | 9206 | London Luton | Faro |
Wednesday 20th September
| | | | |
| --- | --- | --- | --- |
| Date | Flight Number | Departure | Arrival |
| 20/09/2017 | 3105 | Amsterdam | Dublin |
| 20/09/2017 | 2918 | Barcelona El Prat (BCN) | Brussels Airport |
| 20/09/2017 | 6348 | Barcelona El Prat (BCN) | Venice Treviso |
| 20/09/2017 | 245 | Barcelona El Prat (BCN) | Vigo |
| 20/09/2017 | 8141 | Barcelona El Prat (BCN) | Ibiza |
| 20/09/2017 | 2083 | Birmingham | Madrid |
| 20/09/2017 | 4863 | Bologna Main Terminal | Brussels Charleroi |
| 20/09/2017 | 4341 | Bologna Main Terminal | Palermo |
| 20/09/2017 | 1389 | Bordeaux | Brussels Charleroi |
| 20/09/2017 | 8496 | Brindisi | Milan Bergamo |
| 20/09/2017 | 509 | Bristol | Dublin |
| 20/09/2017 | 2917 | Brussels Airport | Barcelona El Prat (BCN) |
| 20/09/2017 | 4862 | Brussels Charleroi | Bologna Main Terminal |
| 20/09/2017 | 201 | Brussels Charleroi | Copenhagen |
| 20/09/2017 | 1388 | Brussels Charleroi | Bordeaux |
| 20/09/2017 | 200 | Copenhagen | Brussels Charleroi |
| 20/09/2017 | 22 | Dublin | Paris Beauvais |
| 20/09/2017 | 554 | Dublin | Manchester T3 |
| 20/09/2017 | 3104 | Dublin | Amsterdam |
| 20/09/2017 | 508 | Dublin | Bristol |
| 20/09/2017 | 7473 | Eindhoven | Porto |
| 20/09/2017 | 8140 | Ibiza | Barcelona El Prat (BCN) |
| 20/09/2017 | 2094 | Lisbon Airport | Porto |
| 20/09/2017 | 124 | London Stansted | Ancona |
| 20/09/2017 | 8592 | London Stansted | Bergerac |
| 20/09/2017 | 805 | London Stansted | Knock |
| 20/09/2017 | 8445 | London Stansted | Budapest T2B |
| 20/09/2017 | 2295 | London Stansted | Dusseldorf Weeze |
| 20/09/2017 | 2352 | London Stansted | Cologne/ Bonn |
| 20/09/2017 | 1788 | London Stansted | Dortmund |
| 20/09/2017 | 32 | London Stansted | Oslo Torp |
| 20/09/2017 | 7973 | London Stansted | Basel |
| 20/09/2017 | 2436 | London Stansted | Krakow |
| 20/09/2017 | 7117 | London Stansted | Strasbourg |
| 20/09/2017 | 281 | London Stansted | Toulouse |
| 20/09/2017 | 5994 | London Stansted | Madrid |
| 20/09/2017 | 5836 | Luxembourg | Milan Bergamo |
| 20/09/2017 | 5993 | Madrid | London Stansted |
| 20/09/2017 | 2082 | Madrid | Birmingham |
| 20/09/2017 | 3021 | Madrid | Toulouse |
| 20/09/2017 | 555 | Manchester T3 | Dublin |
| 20/09/2017 | 5835 | Milan Bergamo | Luxembourg |
| 20/09/2017 | 8495 | Milan Bergamo | Brindisi |
| 20/09/2017 | 9061 | Milan Bergamo | Trapani |
| 20/09/2017 | 33 | Oslo Torp | London Stansted |
| 20/09/2017 | 4342 | Palermo | Bologna |
| 20/09/2017 | 23 | Paris Beauvais | Dublin |
| 20/09/2017 | 2093 | Porto | Lisbon |
| 20/09/2017 | 7472 | Porto | Eindhoven |
| 20/09/2017 | 3022 | Toulouse Airport | Madrid |
| 20/09/2017 | 9062 | Trapani | Milan Bergamo |
| 20/09/2017 | 6349 | Venice Treviso | Barcelona El Prat (BCN) |
| 20/09/2017 | 246 | Vigo Airport | Barcelona El Prat (BCN) |