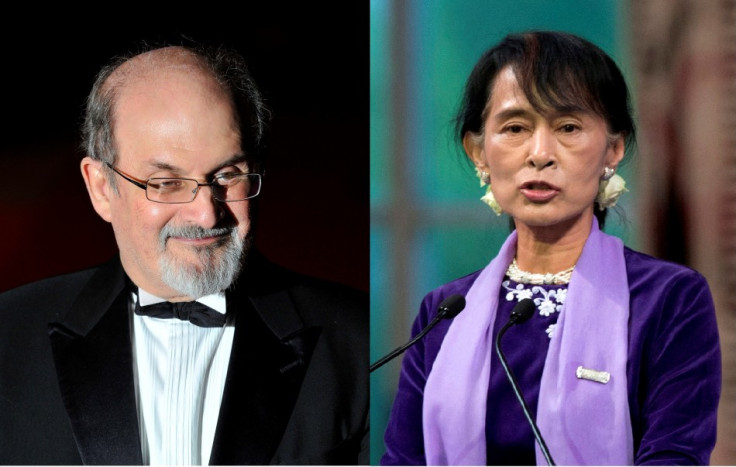 On Tuesday, the 19th of 2012 two international personalities will be celebrating their birthday. Myanmar's pro-democracy leader and Nobel peace laureate, Aung San Suu Kyi, and Booker Prize winner and controversial novelist, Salman Rushdie.
At least one common thing between them on this birthday will be that both are likely to be in Britain during the day.
Suu Kyi has already arrived in the UK on her four-day visit and has been visiting the country after nearly a quarter of a century.
She is likely to spend her day in London and Oxford, where she studied and lived with her husband during the early eighties. This is part of her two-week Europe tour.
She received her Nobel Peace prize in Oslo on Saturday after two decades.
A Brief Life History of Suu Kyi
Suu Kyi was born in Rangoon, Burma on 19 June 1945. Her father was an independence leader and her mother a nurse.
She came to Oxford in 1964 and married Michael Aris in 1972.
As the junta seized power in Burma, Suu Kyi returned to her home country in 1988 and founded the National League for Democracy. Immediately after, she was put under house arrest by the military and later in 1991 she won the Nobel peace prize.
Although released in between, she spent most of the time under house arrest till November 2010 and two years later, she won a parliament seat for the first time.
A Brief Life History of Salman Rushdie
Rushdie, the Indian-British novelist turns 65 on Tuesday. Born in 1947, the year the British left India, Rushdie rose to fame with his second novel Midnight's Children which won the coveted Booker Prize in 1981.
His fourth novel Satanic Verses stirred more controversies than any other book which drew widespread criticism from Muslims including death threats and fatwa.
The book is still banned in his home country India. In January Rushdie cancelled an appearance at the DSC Jaipur Literature Festival following rumours of a possible assassination attempt.
Rushdie was made a Knight for services to literature in June 2007 by Queen Elizabeth II.