Samsung brings Bixby Voice assistant to Galaxy S8 smartphones in the UK... sort of
Rollout hits 200 countries following launch in US and South Korea.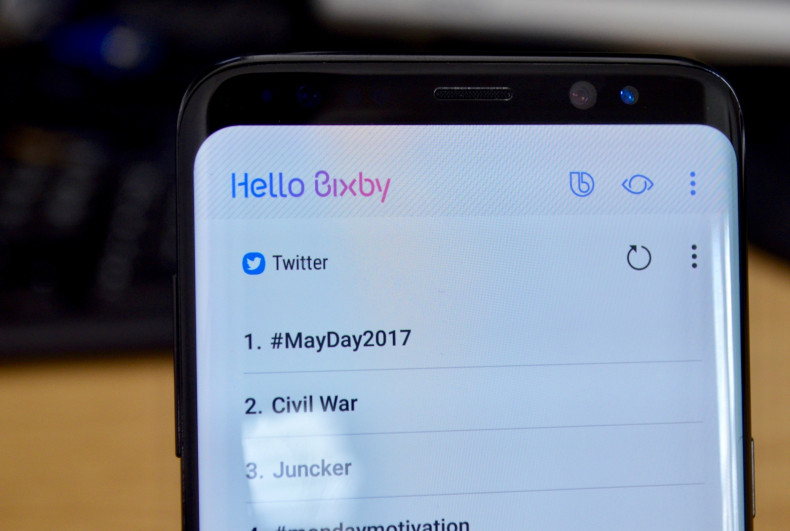 Samsung has announced that Bixby Voice, the company's voice-controlled digital assistant, is now available for Samsung Galaxy S8 and Galaxy S8 Plus smartphones in 200 countries – including the UK, Australia, Canada and South Africa. The global rollout follows a limited release in US and Samsung's home region of South Korea earlier this year.
The "intelligent interface" was previously available for the wider Galaxy S8 userbase through Bixby's Vision, Home, and Reminder features. However this meant the debutante artificially intelligent assistant only recognised text and tap inputs.
With voice-activation and -recognition now in Bixby's global repertoire, the assistant can finally join the likes of Apple's Siri, Google Assistant and Microsoft's Cortana as a fully functioning digital butler built to streamline interactions with Samsung's own UI features and apps.
Once the update goes live on your device all you need to do to wake Samsung's assistant is say "hi, Bixby", or you can press the dedicated 'Bixby button' found on the Galaxy S8 and Galaxy S8 Plus – a button that may also be sported by the upcoming Galaxy Note 8, judging by leaked design renders.
There is a slight catch, however. For the time being, the rollout will only cover users who have set their device's language to either US English or Korean.
Samsung has also warned that those with strong accents may fall foul of Bixby's strict dialect recognition software. There's also the small issue of some Galaxy fans finding the deep learning-powered AI assistant to generally be a tad temperamental, not to mention its lack of truly killer features, as we found in our Galaxy S8 review.
"Now millions of customers worldwide have access to a new and intelligent way of interacting with their phone," said Samsung Electronics', Injong Rhee. "The expansion of Bixby's voice capabilities is an initial step in the continued rollout of Bixby functionality. In the future, Bixby will have the learning power to offer more intelligent and personalized interactions and seamless connections across more devices."
In an accompanying press release, Samsung noted that Bixby's voice capabilities will expand to additional countries in the future, as well as catering for more languages and increased third-party application support.