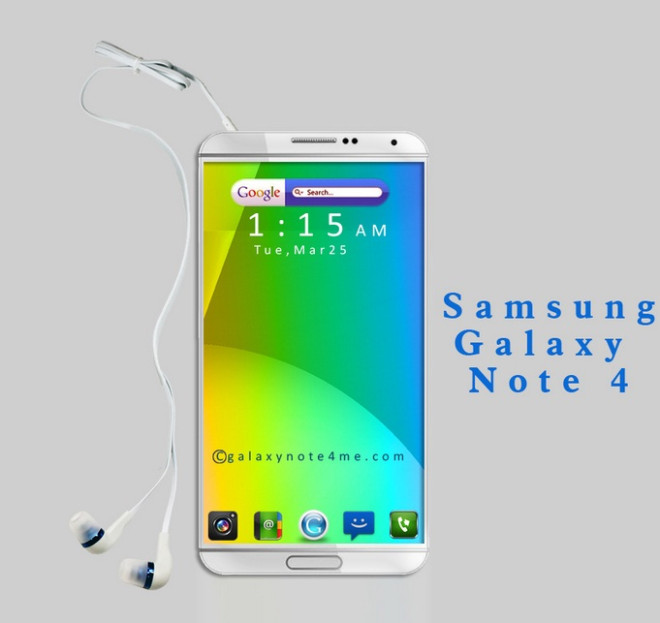 The technical specifications for Samsung's fourth generation Galaxy Note, widely known as Galaxy Note 4, have been leaked online.
The leak comes from Chinese site CNMO.com, according to which the Galaxy Note 4 will not use eye scan or, fingerprint scanner. Instead of that, it will use signature-unlock, which is a security feature that allows to unlock the phone using a signature. This security feature is available in Galaxy Note 3.
Besides that, the Galaxy Note 4 is expected to use ultra high definition (2K screen) AMOLED display with resolution at 3480 x 2160 pixels. However, the leak does not reveal the screen size of the handset. Like Galaxy S5, the upcoming Note will be dust and water resistant.
Samsung is said to be using the 64-bit processor, which was first introduced in Apple's iPhone 5s, for its next flagship smartphone. The 64-bit processor will reportedly integrate 4GB RAM, developed using the 20-nanometer process. It will offer 128GB storage space.
The Galaxy Note 4 is expected to run the upcoming Android software version 4.5 and use a battery of 3600-3800 mAh inside.
The Note 3 has a 13 megapixel camera, whereas its successor is expected to pack a 20.7 megapixel rear-camera with Optical Image Stabilisation (OIS) and support 4K video recording. Additionally, the Note 4 will be a 4G LTE enabled handset and support dual-band Wi-Fi capabilities.
Samsung is expected to introduce the Galaxy Note 4 at the upcoming IFA 2014 event, reports Android Geeks, with no word on the market rollout the device.