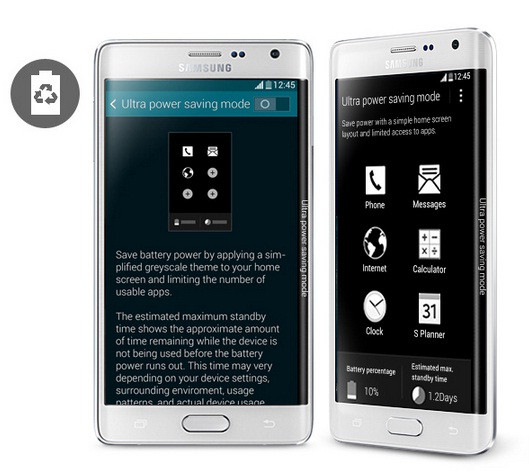 Featuring the next-level Galaxy Note experience, Samsung's Galaxy Note Edge shares most of the features with the Galaxy Note 4, except the unique curved edge screen.
This curved screen reduces the internal volume of the smartphone, and thereby reduces the battery space a bit to 3,000mAh. In comparison, the Note 4 stores 220mAh more power than its curved screen variant.
The unique screen and some software of the Note Edge make a huge impact on the battery's performance. Still, the Note Edge offers a decent battery life, although it failed to meet the scores of its flat-screen variant, suggests the tests by GSMArena.
Hopefully, Samsung will improve the battery life of Note Edge with a new software update, may be Android 5.0 Lollipop, which can do magic with its Project Viola features that includes multiple power-saving modes.
Coming to the first call test, the Note Edge performed quite fairly. It was seven hours behind the Note 4, at 21.39 hours. But still, it was ahead of a majority of smartphones in the list.
In the web browsing test, the Note Edge failed to outscore the Note 4 and was about one hour and 24 minutes behind the flat screen variant, at 9.20 hours. Huawei's Ascend Mate2 4G topped the list, with the longest internet use for 16:41 hours.
As the test result shows, the Note Edge managed a video playback close to 11 hours, before its battery drained out. The Note 4 again knocked the Note Edge out by more than seven hours of video playback life. The LG G Flex featuring a flexible display was the winner in the same test, delivering video playback of up to almost 20 hours.
Finally, in the endurance rating, the Galaxy Note Edge scored 68 hours, as opposed to the 87 hours of Note 4. This means the Note Edge can run for two-and-a-half days with moderate usage, whereas with heavy usage it can go for up to two days.