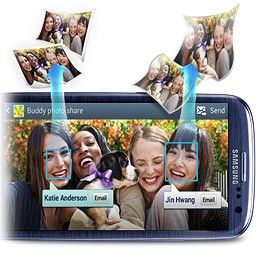 The excitement is peaking ahead of Samsung Galaxy S3's official release. Tech fans who have pre-ordered smartphones from Samsung's store at Westfield Stratford City, London, would be able to lay their hands on the device on 29 May.
Besides, the Korean giant is gearing up to sell the Galaxy S3 in Mobile PIN stores in the Olympic area around Stratford. The stores at Westfield shopping centre have been given a makeover, making them look impressive, according to Android Authority. It is reported that approximately 70 percent of the Olympic spectators will be walking around the shopping centre.
"Carphone Warehouse has changed the status of the white Galaxy S3 from 'Out of stock - Back order' to 'In stock' which means that you should be able to buy it either in store or online with delivery date next working day (which is Monday)," claims ITProPortal.
Customers who pre-order the Galaxy S3 will get a free entertainment pack worth £75. It includes music, HD games and apps. Users can enjoy 50 music tracks, worth £50, from the catalogue of millions available on 7digital's mobile website. Users also grab HD games, worth £25 which includes N.O.V.A.2, Order and Chaos Online and The Adventures of Tin Tin, plus AVG Security according to Carphone Warehouse.
The largest distributor of smartphone in the UK is now prepping to attract customers by introducing the free entertainment pack. The company is expected to place the stock in its 800-plus stores because of the huge demand and pre-orders for the smartphone. It has crowned the new Galaxy S3 as the fastest selling pre-order phone of 2012. "The first 24 hours alone saw thousands placing their pre-order at Carphone Warehouse," said Graham Stapleton Carphone Warehouse's chief commercial officer, according to The Inquirer.
Samsung Galaxy S3 packs special features like Smart Stay, Smart Alert, Direct Call, Social Tag and S Voice. It is powered by the quad-core Exynos 4212 processor, clocked at 1.4GHz and ships 1GB of RAM. The device runs on Android 4.0.4 Ice Cream Sandwich operating system. It comes with three internal storage variants -16/32/64GB. The 64GB is expected to be available at a later date.