Samsung has just launched a smaller version of the flagship Galaxy S5 smartphone with the S5 Mini but retains the fingerprint sensor and heart-rate monitor.
Samsung began releasing a smaller version of its flagship Galaxy smartphones in 2012 with the launch of the Galaxy S3, and continued last year with the Galaxy S4 Mini.
This year's 'smaller' model features a 4.5in screen which is a slight increase from the 4.3in screen on last year's model - and is only very slightly smaller than the 4.8in screen on the Galaxy S3.
The Galaxy S5 Mini also retains the styling and waterproof credentials of the bigger device but in terms of hardware has a less powerful processor and the camera sensor has been downgraded from 16 megapixels to just 8 megapixels.
The phone will be available in four colours: Charcoal Black, Shimmery White, Electric Blue and Copper Gold.
Tech Specs:
Android 4.4 (KitKat)
Quad-core 1.4GHz processor
1.5GB RAM; 16GB in-built storage
microSD card
120g; 9.1mm
The phone will launch initially in Russia in early July with availability in the UK and elsewhere in the world to follow. Pricing has not been announced by Samsung as of yet.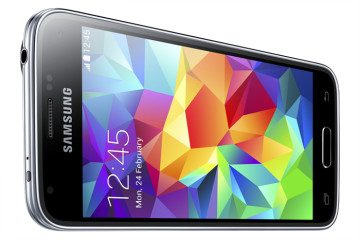 Samsung has led the way in releasing smaller versions of its flagship smartphone but it is a practice which has been mimicked by HTC, Sony and LG in the last 12 months.
"We always strive to develop devices that appeal to a range of consumer tastes and styles." said JK Shin, CEO and Head of IT & Mobile Communication at Samsung Electronics. "The Galaxy S5 mini allows consumers to enjoy the iconic design and essential and useful features of the Galaxy S5 through a maximised minimalism approach."