Samsung's new Galaxy S6 and its curved screen spin-off pack a 5.1in Quad HD Super AMOLED screen offering a high pixel density of 577 pixels per inch (ppi). The two use identical Exynos 7420 mobile application processors.
But there is some difference in terms of battery size, with the S6 Edge storing slightly more power than the standard S6 model. The two offer similar results in tests conducted by GSMArena.
In the 3G talk time test, the Galaxy S6 duo performed well, lasting close to 20 hours, although not up to the level of the Galaxy Note 4 and Galaxy S5 which stayed for 28:31 hours and 27:37 hours respectively.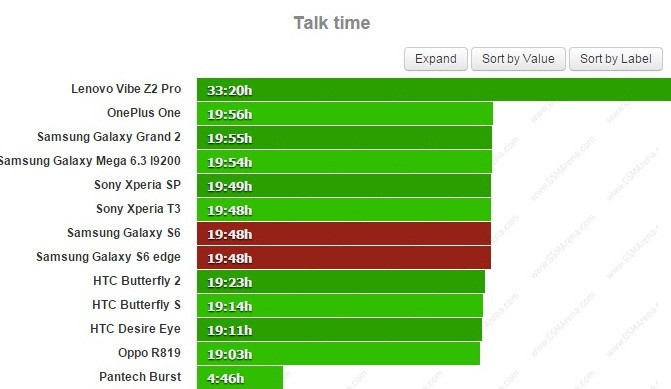 The S6 flagship series managed to last 11 hours, almost the same duration as the Note 4, in the web browsing test. They failed to make it to the top five list, but scoring above 10 hours is considered quite impressive. The drop is attributed to the default browser that rendered web pages at Quad HD resolution, and huge pixel counts.
In the video test, the S6 devices lasted a few minutes longer than 12 hours, which is one hour more than the video playback of the Galaxy S5.
The S6 and the S6 Edge achieved an endurance rating of 73 hours, which means the smartphones can run for three days with single charge, given one hour's usage of each for calls, web browsing and video playback.
The night clock feature, an always-on clock during night, draws 2-3% extra charge compared to standby battery usage.
Besides, the Edge Lighting notification does not harm the battery life, but features such as People Edge and Information Stream require the screen digitizer of the S6 Edge to be always active to register the user's gestures, which in turn makes an impact on the standby performance.
[Source: GSMArena]