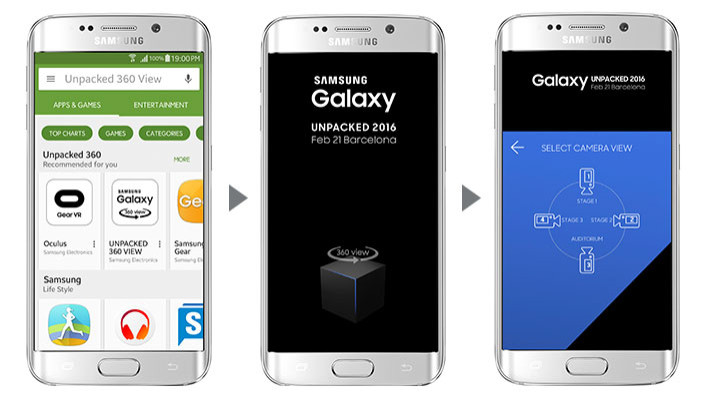 Samsung will live stream its Galaxy Unpacked 2016 event in 360-degree video at Mobile World Congress. The company has released details on how viewers can tune into the launch of the Samsung Galaxy S7 and get a 360-degree view of proceedings.
Samsung Unpacked takes place in Barcelona on 21 February and will mark the launch of Samsung's Galaxy S7 and S7 Edge devices, among others. For those who cannot make it to the event in person, Samsung has launched an app that will allow viewers to watch through their mobile device, PC or the Gear VR headset.
To get in on the action, viewers need to first grab the Unpacked 360 View app. Available on the Android and iOS apps stores for mobile and via the Oculus Store for Gear VR users, viewers are offered a choice of four viewing points after installing the app: auditorium, stage left, stage right or from centre stage. Once the live stream begins, mobile users will be able to move the device around to get a complete view of their surroundings. Meanwhile, Gear VR viewers will be able to experience the goings-on as a virtual reality experience.
PC viewers can simply log on to the Galaxy Unpacked page on the Samsung website when the event begins at 6pm GMT (7pm CET) on 21 February.