Galaxy S4 I9500 is finally here, as Samsung has unveiled the most-anticipated smartphone in recent times, at a grand UNPACKED media event held at New York's popular Radio City Music Hall on 14 March. Samsung's new flagship smartphone is going up against its mighty rivals - HTC One, Sony Xperia Z, iPhone 5 and the Nexus 4 - in the battle of heavyweight smartphones. Samsung Galaxy S4 is expected to make a grand worldwide release across 327 network carriers and 155 countries starting 26 April. The flagship device is expected to debut in two colour options: Black Mist and White Frost with additional colours to be released later this year.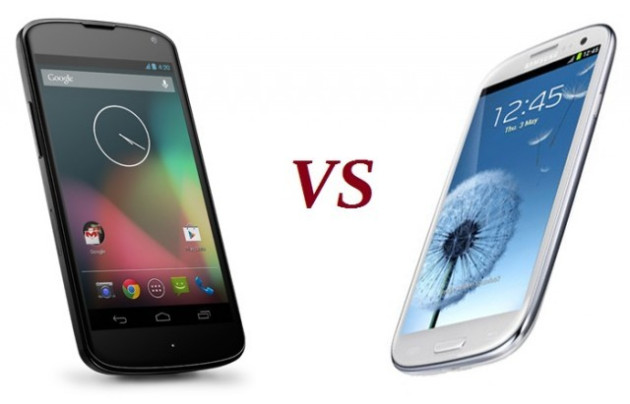 Google had earlier announced the launch of its new flagship phone, the Nexus 4, in partnership with LG along with two other devices - Nexus 7 and Nexus 10. All three were the first Nexus devices to ship with Android 4.2 Jelly Bean out-of-the-box.
IBTimes UK brings to its readers a detailed feature comparison in the showdown of quad-core heavyweights - Samsung Galaxy S4 vs Google Nexus 4.
Samsung Galaxy S4 Vs Nexus 4: Display
Galaxy S4 boasts the world's first Full HD (1080 x 1920 pixels) Super AMOLED display on a 5in big screen. The display features a native resolution of 1080 x 1920 pixels at a pixel density of 441 pixels-per-inch (ppi) for a stunning viewing experience. Its 5in screen comes with Corning's new Gorilla Glass 3 technology for enhanced protection against smudges, scratches and other superficial damage to the screen.
Nexus 4, on the other hand, ships with a smaller 4.7in True HD IPS Plus display with LG's Zerogap Touch technology for a clearer viewing experience. This is despite the fact that the screen offers a relatively lower native display resolution of 768 x 1280 pixels at a pixel density of 320ppi.
The Zerogap Touch technology involves an ITO sensor film printed directly on the glass, removing the air gap trapped between the two elements. This reduces the thickness of its display, while offering the slimmest design and sharpest viewing experience. As LG claims, the new display technology offers 1.6 times clearer images than its AMOLED counterpart, while offering twice brighter and sharper images in outdoor environment.
Samsung Galaxy S4 Vs Nexus 4: Dimensions
Though both the Galaxy S4 and Nexus 4 have similar footprint in terms of their height and width, the former (at 7.9mm) is significantly slimmer than the latter (at 9.1mm). The overall dimensions of the two smartphones are listed below:
Galaxy S4: 136.6 x 69.8 x 7.9 mm
Nexus 4: 133.9 x 68.7 x 9.1 mm
The Galaxy S4 is also lighter by nine grams (g) than the Nexus 4, which weighs 139g.
Samsung Galaxy S4 Vs Nexus 4: Operating System and Apps
Samsung's new flagship phone comes with the latest version of mobile operating system, Android 4.2.2 (Jelly Bean), out of the box. Its native TouchWiz UI gets a revamp and borrows the Smart Stay feature found in its predecessor, the Galaxy S3. The S4 is equipped with a much smarter feature called Eye Tracking technology which enables special user-eye-controls such as Smart Pause (hold things when the user look away) and Smart Scroll (recognises the user's eye movements and scrolls the page or lines of text as the user tilt the phone back and forth). Another key feature is the S Voice Drive, which enables the driver to multitask. It activates when the vehicle is started and reads the incoming text messages aloud, besides letting the user dictate text messages or use voice assisted navigation on the phone's screen (so that the user need not take eyes off the road).
In addition, the S4 also features a host of interesting apps such as ChatOn (instant messaging service for three-way video-conferencing and screen sharing), built-in e-mail translation tools and gesture based controls that allow the user to skip songs, scroll web-pages and answer calls by just waving his/her hand over the screen.
The Nexus 4, on the other hand, comes with Android 4.2 (Jelly Bean) out-of-the-box, which is now upgradeable to the latest Android 4.2.2 update.
Android 4.2 packs a host of new features including Gesture Typing which enables users to slide fingers over the letters they want to type on the keyboard while increasing the typing speed. The operating system (OS) also supports wireless display, which allows users to share movies, YouTube videos and other videos and images on their TVs. Other noteworthy features include Daydream, enhanced Google Now, Google Search and Android Beam.
Samsung Galaxy S4 Vs Nexus 4: Processor and RAM
The Galaxy S4 will be reportedly available in two variants: the US and the international model. The international Galaxy S4 will pack the new Exynos 5 Octa (8-core) processor with the model number I9500. It features a quad-core 1.6GHz Cortex-A15 processor for heavy-duty tasks, and another quad-core 1.2GHz Cortex-A7 processor for lightweight or mundane tasks. The eight-core processor is expected to deliver optimum performance with up to 70 percent higher energy efficiency, during processor-intensive tasks such as gaming and multimedia in comparison to earlier Exynos Quad-core processors. The processor architecture is designed such that it can seamlessly switch between the two quad-core sub-processors. The device's graphics is handled by PowerVR SGX 544MP3 GPU.
In contrast, the purported US variant (model number I9505) is likely to ship with a Qualcomm chip based 1.9GHz Snapdragon 600 quad-core processor which is optimised for better handling of 4G LTE networks.
The Nexus 4, on the other hand, is powered by a single quad-core 1.5GHz Krait processor coupled with Adreno 320 GPU for graphics processing.
Both the smartphones offer 2GB of RAM onboard.
Samsung Galaxy S4 Vs Nexus 4: Camera
The S4 will feature a 13 megapixel (4128 x 3096 pixels) rear camera with a host of advanced camera features such as Drama Shot (combines a sequence of action stills into one frame, similar to HTC Zoe feature), Story Album (allows users to create picture albums sorted by geolocation, date etc.), Eraser Mode (find and remove unwanted details from recently captured stills), Dual Camera (enables users to record video and take pictures using both front and rear cameras simultaneously) and Sound & Shot (uniquely stores sound and voice together as the photo is taken so those special moments are enjoyed in their truest form).
S4's rear and front cameras feature a Backside-Illuminated Sensor (BIS) for superior low-light sensitivity and support Full HD (1080p) video-recording at 30 frames per second (fps).
In contrast, the Nexus 4 offers an 8 megapixel rear camera with advanced camera features such as face-detection and Photo Sphere. Photo Sphere allows the user to take snaps in all directions (360 degrees) and then share them over Google+ or add Photo Sphere to Google Maps.
Samsung Galaxy S4 Vs Nexus 4: Connectivity
Both the smartphones offer a wide-range of connectivity options such as Wi-Fi, Bluetooth v4.0 with A2DP and Near Field Communications (NFC). The S4 supports Wi-Fi 802.11 a/b/ac/g/n standards, while the Nexus 4 supports Wi-Fi 802.11 a/b/g/n standard. However, only the Samsung phone offers infrared port for communication with infrared devices.
On the connectivity front, the S4 supports a couple of noteworthy features. For one, WatchOn feature uses the IR LED and allows users to double-up their Galaxy S4 as a remote control for connecting to Samsung TV and other devices. Another new feature Group Play allows the user to connect up to eight Galaxy S4 devices through NFC and share audio files, photos etc.
The S4 offers data download speeds up to HSDPA 42.2Mbps and upload speeds up to HSUPA 5.76 Mbps. Its LTE network band offers much faster download and upload speeds (100 Mbps DL and 50 Mbps UL). In comparison, the Nexus 4 supports slower 3G download speeds (DC-HSDPA 42Mbps, HSDPA 21Mbps and HSUPA 5.76 Mbps) with no support for LTE network.
Samsung Galaxy S4 Vs Nexus 4: Storage
The Galaxy S4 offers three storage variants: 16, 32 and 64 GB. It also adds support for microSD expansion slot up to 64GB.
Google's flagship phone supports only 8 and 16GB storage variants, without any support for microSD expansion.
Samsung Galaxy S4 Vs Nexus 4: Battery
The S4 is powered by a 2600mAh battery, which is around 500mAh bigger than the S3's battery. However, precise battery-life details are yet to be revealed.
Nexus 4 offers a relatively smaller 2100mAh battery, which is expected to deliver up to 390 hours of stand-by or up to 15 hours of talktime on 3G network.
Samsung Galaxy S4 Vs Nexus 4: Price
Google's Nexus 4 is now available for purchase from Google Play website. 8GB model is priced at £239 (inc.VAT), while the 16GB variant costs £279 (unlocked and SIM-free). The 16GB version is also available for free on £26 per month contract deal through Carphone Warehouse in UK.
On the other hand, Samsung is yet to announce the official retail price for its newest flagship phone, the Galaxy S4. However, the 16GB version of the smartphone is expected to be priced around £499 at the time of its release in April.
Meanwhile, Carphone Warehouse, EE and Vodafone have confirmed that they will be selling the high-profile phone at the time of its release in April. Carphone has an estimated selling date from 25 April, while EE is expected to take pre-orders from 28 March. Vodafone, O2, Phones4U and Three are yet to disclose any shipping details for the phone.