Key Features:
1.63in screen (320 x 320 pixels)
Tizen software
Integrated camera
Water-resistant
Replaceable straps
Price as reviewed: £249
Samsung Gear 2 Review
Samsung got into the wearables game early. It launched the Galaxy Gear smartwatch just last September, well ahead of all its main rivals.
But getting to market first is not always a good thing and the Galaxy Gear was widely panned by critics - for being too expensive, having terrible battery life, being too big and just not doing what people wanted it to.
So, not wanting to stick its head in the ground, Samsung is back with its second attempt at a smartwatch, just six months later.
The new Gear 2 smartwatch is slimmer and lighter, has ditched Android in favour of Tizen, and now includes a heart rate monitor as Samsung looks to focus on health and fitness.
But at £249, is this a smartwatch worth buying?
---
Gear 2: Design
---
The Galaxy Gear was a clunky and heavy piece of technology which always reminded you that you were wearing it. Samsung has done well to reduce the weight (from 74g to 68g) and the thickness (from 11.1mm to 10mm).
These may seem like minor improvements, but for a piece of technology you are supposed to wear all the time, they make a big difference.
The rest of the design is similar to the original and the rose gold version I reviewed was not unattractive (a silver/grey version is also available).
The square design is still rather clumsy looking on your wrist, but it's certainly not terrible.
One big improvement is the addition of replaceable straps which are available in black, brown, orange and grey. This has been facilitated by the inclusion of the camera in the phone's body, and not the strap, which makes much more sense.
The adjustable strap is a bit fiddly but never felt like it was going to open or come off my wrist.
With a smartphone, its function is as important as its form (if not more so), but smartwatches are an entirely different matter.
Watches are fashion statements for a lot of people, and unfortunately the Gear 2 is probably not going to be making the type of statement many people want.
It's not ugly, but it's identifiably a smartwatch. The industry is evolving and Motorola is bringing out the Moto 360 later this year which is much more stylish than anything we've seen so far.
In short, the Gear 2 is an improvement, but not a huge one in terms of design.
---
Gear 2: Set-up
---
Setting up the Gear 2 smartwatch is pretty straight forward. Download the Gear Manager app from the Samsung App store, connect via Bluetooth and you're good to go.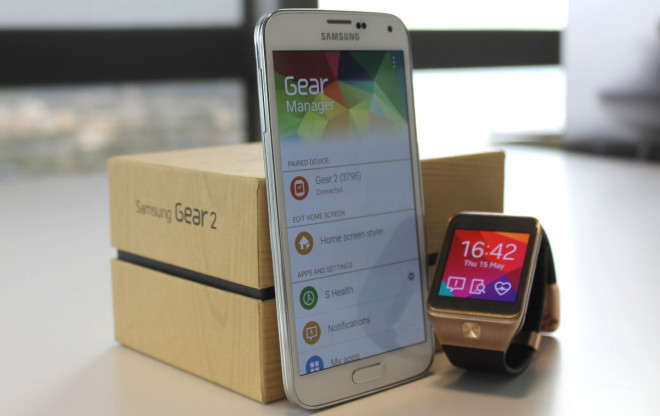 Through the manager app you can change settings like which notifications you want to see come through on your Gear 2, what wallpaper you want and which shortcuts to display on the home screen.
These can all be done on the watch itself too.
The problem is that, like the original Galaxy Gear, Samsung has decided to limit the number of smartphones the Gear 2 works with to 17 devices - all of which are natually made by Samsung. this clearly limits the appeal of the Gear 2, but it allows Samsung to control the experience more closely.
If you don't own one of the 20 or so Samsung-approved smartphones the Gear 2 officially works with, there is a way around it, and I managed to get my Gear 2 working on my Nexus 5.
However, the process is a complete faff and you don't get the full range of features working properly. If you are considering spending £250 on this watch, it's best to make sure you have one of the compatible smartphones in the first place.
---
Gear 2: Performance and Battery Life
---
The Gear 2 has eschewed Android in favour of Samsung's own Tizen software and that's a good move. Android is not (yet) optimised for smartwatches (something Google is rectifying with Android Wear) and Tizen is a much more lightweight option and works well on a watch.
The 1GHz processor makes the interface fast and responsive, and I didn't once see apps crash or the interface freeze.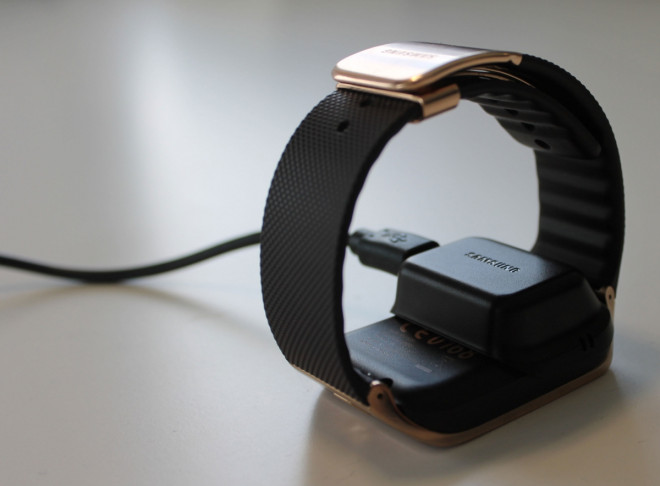 The square 1.63in super Amoled screen has a resolution of 320 x 320 pixels, giving it a pixel density of 277 pixels per inch, which isn't anywhere near as sharp as say the screen on the Galaxy S5, but is still perfectly acceptable and I didn't notice any pixelation.
Like the Galaxy S5, the Gear 2 is dust and waterproof, and while I didn't take it into the shower (it just didn't seem right), I did use it while doing the washing up without any issues.
The watch comes with a 300mAh battery which Samsung says is good for up to three days of use - and if you don't overuse the Gear 2, then that's just about manageable.
It's better than the original - which struggled to make to the end of day two - but is still way off what users will want. Another issue is that you need to use a charging cradle to power the pattern, which means you have to bring it with you everywhere in case you run out of charge.
---
Gear 2: Messages, Emails and Calls
---
But, is the Gear 2 useful?
Well, yes and no. It has a limited set of functions which can be very handy indeed, but not enough to make it worth the cost.
Syncing with your smartphone, it allows you to see incoming notifications such as messages, calls and calendar reminders. The benefit of this is that you don't have to constantly pull your phone out of your pocket just to see another irrelevant text message.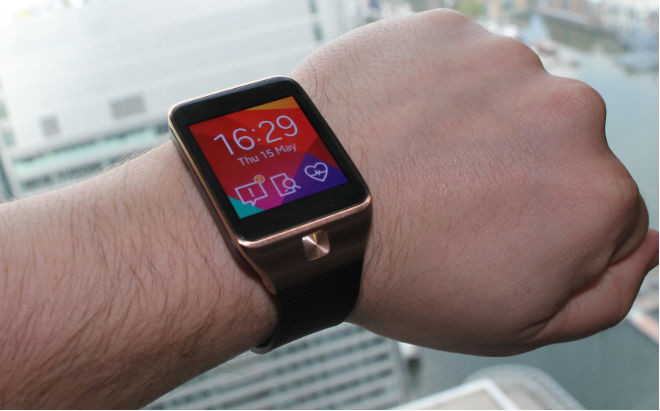 The system works well and the syncing works much better than on Sony's Smartwatch 2.
There is also the option to reply to these messages with a list of predefined texts such as "I'm busy" or "Be there in 5 minutes."
I managed to keep a text conversion going for four messages until someone asked: "Are you texting me from that stupid watch?"
You can also sync emails, which again can be useful, but replying to them is not an option.
Incoming phone calls can be dismissed with a swipe, answered with a text or indeed you can make and take phone calls on the Gear 2, using the microphone and speaker.
Now you should be warned that making a call from your watch will make you look like a berk if anyone sees you. You don't look like Dick Tracy, no matter how much you think you do.
However, sitting on the couch at home in the evening and not needing to get up to answer your phone is very appealling and while the sound isn't perfect, it is perfectly good enough to carry on a conversation.
---
Gear 2 Fitness, Camera, IR Blaster
---
The Gear 2 also acts as a fitness tracker and includes a heart-rate monitor on the underside. Samsung is clearly trying to take advantage of the increased interest in fitness tech at the moment, and with its Fitness app, the Gear 2 is a perfectly functional tracker.
The problem is that it doesn't really lend itself to being worn while doing strenuous activity like playing football, or even cycling.
The Gear 2 also has a camera, but once you pretend to be James Bond a few times then you will probably never use it again.
The resolution is terrible and while it might do for some extreme situations, it's probably worth the hassle of pulling out your phone to take a picture.
Finally, there is an infra-red blaster on the top of the watch, which allows you through the WatchON Remote app to control your TV and set-top box using your phone.
It works, after a bit of fiddling about, but I found I still preferred using my normal remote control.
---
Gear 2: Value and Verdict
---
At £100, the Gear 2 might be an attractive proposition for someone who already owns one of the compatible Samsung smartphones.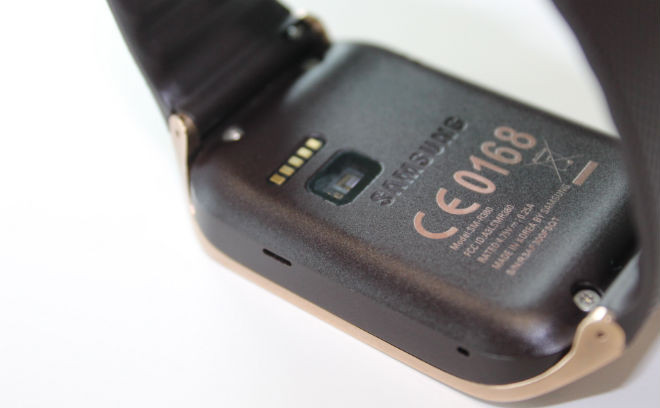 At £249 there is very little reason to recommend anyone buys one.
Yes Samsung has made the new watch lighter and slimmer, as well as improving the interface and performance, while making a decent-looking wearable.
But the problems remain. It is very expensive, has poor battery life (though admittedly better than the Galaxy Gear) and its best functions are easily replicated by a fitness band a this of its price.
Samsung clearly wanted to get to the wearable market first, and it succeeded. But even the second generation of smartwatch from the company has just got too many problems to recommend it.
Scores:
Design: 8/10 - An improvement over last year's model, but still looks very much like a smartwatch
Build Quality: 9/10 - Solid and well made, this is a well-built smartwatch
Screen: 8/10 - Sharp and bright with decent resolution
Software: 8/10 - Tizen a much better option than Android, but still limited
Value: 6/10 - £249? Come on....
Overall: 7/10 - This is still very much a first-gen product, and needs a lot of work to make it an attractive option.
The Good
Relatively attractive design (for a smartwatch)
Good build quality
The Bad
Expensive
Poor battery life
Did I mention it is expensive...