Do not adjust your screens. You have not gone back in time. Samsung, in 2015, is planning to launch a new flip phone.
The same company that produces the excellent and very attractive Galaxy S6 and S6 Edge has been working on a flip phone with two screens and enough nostalgia to write a listicle of the stuff that kids liked in the 1990s.
Let us be serious for a moment. The phone, shown off in leaked renderings published by SamMobile, carries the model name SM-W2016 and features two 3.9in Super AMOLED screens, one on either side of the opening top cover.
Each screen has a resolution of 1280x786 pixels, and hidden beneath there is a physical, numeric keyboard – just like the one we all used in 2004. There is also a 16-megapixel camera on the back and a 5MP camera on the front of the folding screen.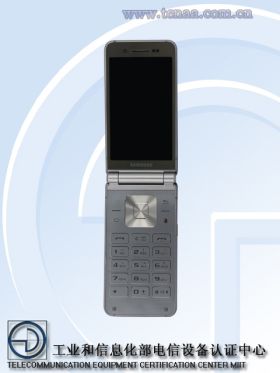 Inside, there is a 64-bit Exynos 7420 processor with 3GB of RAM and 64GB of storage, and it runs Android 5.1 Lollipop. The phone weighs 204g and is 15.1mm thick when folded shut. The rear and sides of the handset look similar to the Galaxy S6.
Samsung is yet to say anything official about the flip phone, so we don't know if it is destined for the UK and Europe, or if it'll be sold exclusively in South Korea.
We also don't know what it will cost or when it will go on sale, but these details don't really matter when the headline remains the same: Samsung, in 2015, is making a flip phone.
And why not? The Motorola Razr was adored by everyone when it arrived in 2004, and if Buzzfeed lists are anything to go by, people love nostalgia.
If mashing "txt spk" into a numerical keyboard and flipping the phone shut to end a call doesn't make you yearn for simple times before smartphones, Twitter and Angry Birds, then nothing will.