Samsung must ensure burning phones are not all it becomes associated with
Korean firm must act fast to repair damage to its brand or risk fiasco getting ingrained in the public's mind.
Nothing could be worse for a diversified multinational conglomerate than to have one fiasco over a particular product overshadow all what it is all about, but that's exactly where South Korea's Samsung finds itself courtesy of its Galaxy Note 7 smartphone. Launched amid much fanfare and positive reviews, the handset promised so much, but it all went up in flames doused out perhaps by even greater corporate embarrassment.
As soon as it hit the market, reports surfaced of the Note 7 overheating and catching fire. As Samsung Electronics scrambled to recall and issue replacements, reports started emerging about the replaced handsets also going up in flames. Finally, on 11 October, the company admitted defeat by initially asking global partners to stop selling the Note 7 "while the investigation is taking place", and later confirming it would no longer build or sell the phone.
Samsung's decision was inevitable following days of nightmarish headlines and public scrutiny. Airlines started banning the Note 7 on health and safety grounds, the Korean central bank said the fiasco would impact the country's headline economic growth and its image, and analysts hit the airwaves putting a figures on how rival Apple – whose iPhone the Note 7 was supposed to take head-on – would benefit from it all.
There was no way of camouflaging the fiasco that saw Samsung Electronics' share price slide by more than 10% intraday on the Seoul Stock Exchange at one point before recovering (see below). Of course, in light of the development, investor panic is understandable. However, those panicking ought to sit back and take stock of what sort of brand they saw being clobbered.
Samsung, founded in 1938, is to South Korea, what General Electric is to the USA. In more ways than one, the Korean conglomerate, or 'chaebol' to use the local vernacular, is as diversified as they come and finds itself dabbling in sectors even GE does not touch, and Apple neither has nor is likely to have a pedigree in any time soon.
As South Korea's largest chaebol, in any given fiscal year, it alone accounts for 16-19% of the country's gross domestic product, which tell you why the Korean Central bank is spooked. Beyond the much beleaguered Samsung Electronics, the division that makes everything from its television sets to washing machines, but is only currently associated with the Note 7 fiasco, are Samsung Heavy Industries [one of the world's largest shipbuilder measured by 2010 revenues], Samsung Engineering and Samsung C&T [both being among the world top 20 construction companies].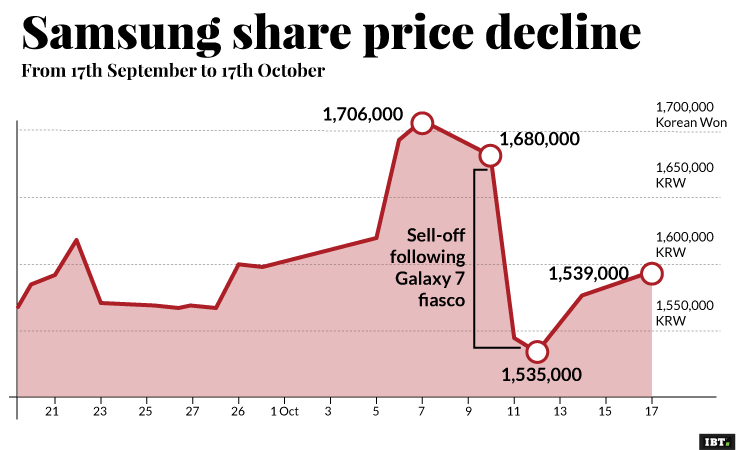 The conglomerate is also associated with Samsung Life Insurance, a major Asia life insurance company, operates Everland Resort (Korea's oldest theme park) and runs Cheil Worldwide, a major advertising agency. Samsung is also the world second largest semiconductor maker, second only to Intel and twice the size of Qualcomm – the company ranked third on the table.
However, being the manufacturer of phones susceptible of quite literally 'firing up' is not an easy tag to shake. The ubiquitous smartphone has become such an integral part of our lives that losing it via an episode as spectacular as an explosion or fires registers in the public mind. That another subsidiary does wonderful things counts for little, it's Samsung Electronics that serves as a drag on the brand.
According to Roberta Cozza, Research Director at Gartner, the company will remained entrenched in a battle for consumers' trust, especially with Samsung Electronics poised to launch yet another flagship phone in the 2017.
"The issues with the Note 7 have serious repercussions not only in dollar terms, but also with regard to brand and perception of trust in Samsung, and will drag for the next few quarters at the very least," Cozza told IBTimes UK.
The Gartner expert believes Samsung Electronics' next big high-end flagship smartphone release – expected over the first quarter of 2017 – will be "critical" for the company to start to regain some of that brand trust back.
Samsung Electronics knows just as much. In a surprise regulatory filing in the wake of its declining share price, it warned that headline profit will take a dent of £1.9bn ($2.3bn, €2.1bn) from pulling its Galaxy Note 7 smartphones off the market. Overall third-quarter operating profit is expected to come in at KRW5.2trn (£3.7bn, $4.5bn), down from previous estimates of KRW7.8trn.
Things are likely to get a lot worse before they get better. According to a provisional impact assessment by Nomura securities, the Note 7 incident may dent demand for its other smartphones as well. "Furthermore, it might even slash the company's fourth quarter mobile division profit by around 85%," it added.
There is growing market consensus that the mobile division – in its bid to chase Apple's iPhone – grew too fast, too soon having caught the public's imagination with its initial array of popular smartphone.
Profit over safety?
Ken Daly, chief executive officer of retailer JML, said while there are no reasons or suggestions to suspect compromises being made in the manufacturing process of the Note 7, Samsung users are bound to question it. "People might begin to think manufacturers are putting profit over safety, and the dangers that this outlook represents could be huge."
Samsung Electronics has announced a root and branch investigation and appears to be working overtime to compensate affected customers via its vendors. In the interim, ratings agencies are sticking by the company, as it attempts to overturn its problems.
"We believe the impact on credit ratings will be limited at this stage mainly because of the company's significant net cash holdings of about KRW65tr ($58.3bn) as of June 30, 2016, and strong operating cash flow," S&P said in a statement.
Damage to brand equity is hard to quantify this early, according to Gartner's Cozza, but Samsung Electronics certainly has a job on its hands. "It needs to look hard internally at any management issues that might have impacted on the handling of this crisis and quality assurance practices in place. The need to make drastic changes to ensure improvements take place as soon as possible cannot be greater."
Importance of that process for South Korea's largest chaebol cannot be understated. Of course, there is more Samsung than a burning mobile phone, but being remembered only for it over the medium term could have devastating consequences for the company and Korea Inc as a whole.
---
Gaurav Sharma is the Business Editor of IBTimes UK. He has been a financial journalist for over 15 years, with a core specialisation in macroeconomics and commodities. Follow Gaurav on Twitter here.
---
© Copyright IBTimes 2023. All rights reserved.