Samsung's presentation at the world's biggest mobile fair, the Mobile World Congress in Barcelona, was disrupted by Greenpeace activists on Sunday (26 February) over the company's handling of the disposal of millions of recalled Galaxy Note 7 units. One activist managed to get to the stage as Samsung Electronics Europe's Chief Marketing Officer David Lowes was making his opening remarks.
The activist unfurled and held a yellow banner that featured Samsung's logo surrounded by the recycling symbol, #GalaxyNote7 and the words "Rethink, Reuse, Recycle".
Lowes acknowledged the activist's presence saying: "I think you've made your point."
Samsung was forced to recall millions of Note 7 phones globally and discontinue the line last year following numerous incidents of the device's batteries exploding or catching fire. Samsung is said to have produced 4.3 million Note 7 units, prompting serious concerns over their proper disposal and impact on the environment.
Reports emerged that Samsung would possibly sell refurbished models of the Galaxy Note 7 with smaller batteries in emerging markets such as India and Vietnam. However, a Samsung India spokesperson refuted the report.
More activists attempted to roll out another large banner after rappelling down the side of the building where Samsung's presentation was being held. However, the venue staff prevented them from doing so.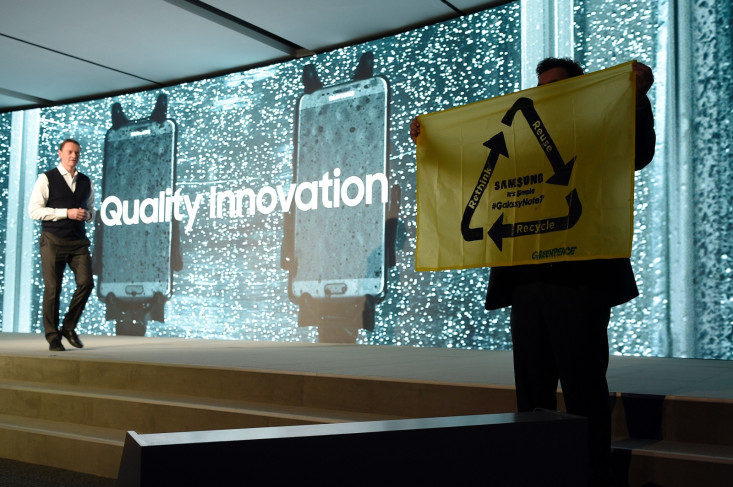 In a blog post, Greenpeace Spain said the protest was held in response to Samsung's alleged lack of commitment to recycle the millions of recalled smartphones.
"Samsung has yet to share a clear plan on how it will manage the 4.3 million phones it has withdrawn," Greenpeace wrote in Spanish. "If Samsung is serious and wants to ensure that this does not happen again, it must lead the industry and evolve into a system that allows phones to be easily repaired, reused and recycled."
Last year, Greenpeace urged the company to "see an opportunity" in the Note 7 fiasco and "act transparently" to ensure that the devices were dismantled, separated and the precious materials they contain were reused, rather than simply ending up in the trash.
"Smartphone ownership in 2020 is expected to reach 6.1 billion devices, or about 70% of the global population," the environmental group said. "It's time for companies that make mobile phones to think green."
Samsung responded to the incident in a statement to CNBC saying the smartphone giant has "prioritised a safe and environmentally friendly process for disposing of devices. We are committed to working closely with regulatory bodies, as well as carrier partners, to ensure a responsible disposal plan for our devices".