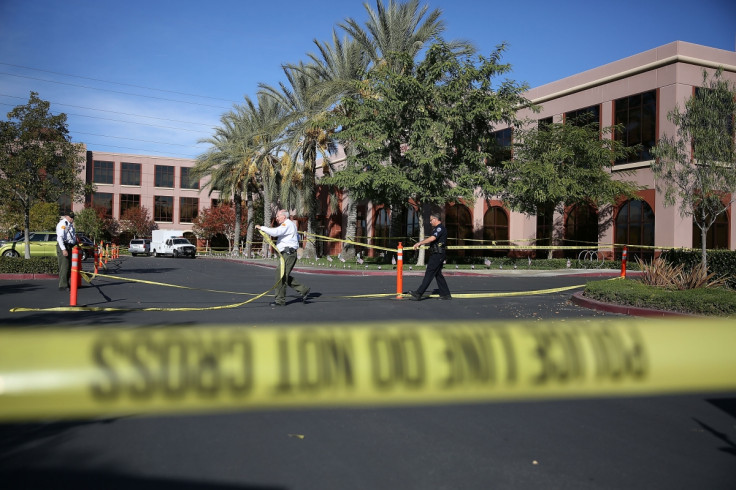 Less than a week after the 2 December shooting that left 14 dead in San Bernardino, California, investigators are attempting to determine whether the married attackers left behind a bomb at the scene of the massacre hoping that it would kill responding police officers. The FBI is also looking into a $28,500 (£18,990) cash loan the couple received weeks before the deadly attack.
According to The Los Angles Times, the explosive device found at the Inland Regional Center was made up of three bundled pipe bombs and remote-control car parts. San Bernardino Police Chief Jarrod Burguan revealed that the bomb was hidden in a canvas bag that was left behind by shooters Syed Rizwan Farook and his wife Tashfeen Malik. The Times noted that the device was similar to schematics featured in al Qaeda's Inspire magazine.
Once police discovered the device, they evacuated the area around the regional centre for disabled people. An anonymous source told The Times that bomb technicians do not believe the device could have detonated because the building's sprinkler system set off during the shooting, could have damaged the device.
The FBI is also looking into the $28,500 loan 28-year-old Farook took out from San Francisco-based online lender Prosper. According to Reuters, Prosper evaluates borrowers for loans and then sells the loans to investors. Loans from Prosper originate from WebBank.com, which stated it would cooperate fully with any investigation but would not comment on any specific loans.
"Our hearts and prayers go out to the victims and everyone else impacted by the tragedy in San Bernardino. WebBank evaluates all loan applications in accordance with legal requirements including US anti-terrorism and anti-money-laundering laws," the company said in a statement. "In addition, the Bank continually works with regulators to address their inquiries and concerns and will fully cooperate with law enforcement agencies investigating this matter."
As authorities investigate how the couple was financed, US government officials have said the FBI has not found the couple's finances linked to any foreign group. Reuters reported that a government source said Farook and his 29-year-old wife used a financial tactic previously followed by US-based militants: drain their bank accounts and instead rely on credit lines that they knew they would not pay back because they believed they were on a suicide mission.
Other sources for The Times reported that investigators believed the two used a cash loan to acquire rifles, thousands of rounds of ammunition and parts for pipe bombs found in the couple's Redlands home. Such cash advances would help explain how the couple managed to pay a rental car, gun range target practice as well as renting their home and raising their new baby. US-born Farook, who worked as a San Bernardino County health inspector, earned $52,000 a year, while his Pakistani-born wife was unemployed.
On 7 December, the FBI said it appeared the two had been self-radicalised "for quite some time" and that the weapons and bomb-making equipment in their home suggested the attack was premeditated. According to The Times, investigators are also looking into whether Farook was influenced by Mohamed Abdullahi Hassan, a former resident of Minneapolis known as "Mujahid Miski" who has recruited for the Islamic State (Isis).
Farook and Malik allegedly opened fire during a holiday party for Farook's colleagues at the Inland Regional Center on 2 December. The attackers left 14 dead and injured another 21, before being killed in a shootout with police. According to The Times, of the 21 injured, four remain in hospital. Two are listed as critical but stable condition.