Arsene Wenger has criticised the decision that saw midfielder Santi Cazorla omitted from the Professional Footballers' Association Team of the Year.
The £16.5 million summer arrival from Malaga has enjoyed a remarkable maiden campaign in the Premier League, swiftly adapting to the rigors of English football and Arsenal's own particular requirements.
The Spaniard is the only member of the Arsenal squad to have featured in every Premier League outing this season, and his impressive tally of 12 goals makes him the club's highest scorer in the Premier League, in addition to laying on seven assists for his teammates.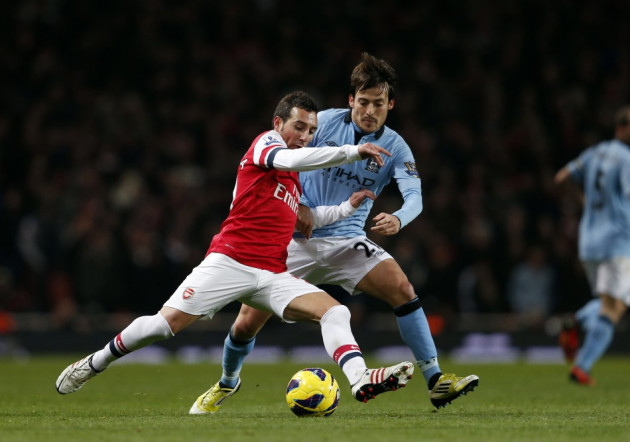 While the PFA members chose to opt for a midfield consisting of Eden Hazard, Michael Carrick, Juan Mata and Gareth Bale, Wenger believes Cazorla's contribution to the Gunners' season should have seen him awarded a place in select midfield.
"I am sure he must have been very close to be in there," Wenger told the club's official website. "In my opinion he deserved to be there based on the consistency and quality of his performances.
"And then there are the number of chances and assists he created. I think he deserved to be in there. "
Cazorla arrived at the Emirates along with Lukas Podolski and Olivier Giroud last summer, and although the two forwards have contributed to Arsenal's campaign, the consistency and boundless enthusiasm for the game the Spaniard has shown has seen Wenger single him out for particularly high praise.
The French tactician admits that while he knew he was bringing in a gifted playmaker that would complement his side immeasurably, the strength and stamina Cazorla has shown in his first season as an Arsenal player has surprised the Gunners boss.
"It is absolutely amazing," Wenger added. "I'll tell you something - if you count the number of training sessions he has missed it will be similar to that [the number of games he has missed.
"I can't remember the number of sessions where he had an injury. His consistency has been remarkable for the games and the training sessions. And one might explain the other one.
"I was not aware of it [Cazorla's stamina before he signed]," Wenger continued. "I did check the number of games he played but I was not aware that he would have such stamina in the Premier League."