A Saudi Arabian teenager has been arrested for performing much-loved 1990s dance craze the Macarena at a pedestrian stop in the city of Jeddah.
Police announced that the boy was detained for disrupting traffic and violating public morals on 22 August, according to Storyful.
The 40-second clip shows the youngster strutting out in front of parked cars and performing the iconic dance routine on Prince Mohammed bin Abdul Aziz street.
Police spokesman Colonel Ati bin Atiya al-Qarshi told a local newspaper that the force had "gathered the necessary security information and [conducted] secret investigations to arrest the accused".
The Macarena is usually performed to a Spanish dance song of the same name produced by Los del Rio which is popular at weddings and children's discos around the world.
The video was originally posted in 2016 but then resurfaced on social media last week, prompting the police investigation, according to Middle East Eye.
The unnamed teen has been referred to the Public Prosecution Service. It is not clear what sort of punishment he can expect.
Twitter users were divided as to whether his dance was worthy of celebration or condemnation. One wrote on Twitter: "A hilarious boy. A normal and free person." Another said: "Unfortunately, our youth and young people have reached this bad moral level."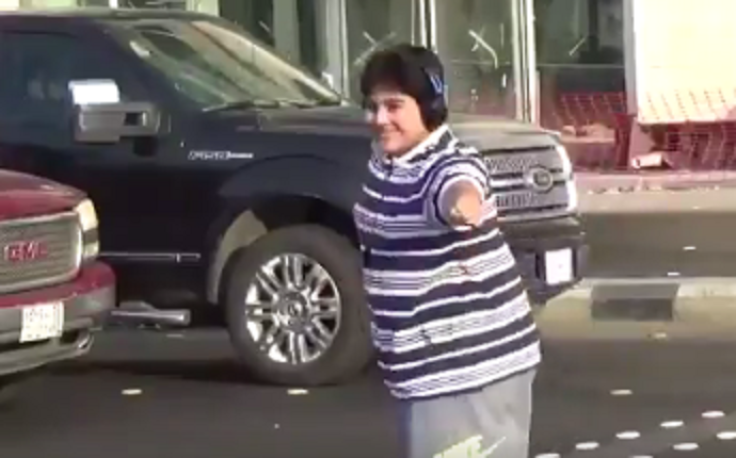 The reaction has once again illustrated a cultural divide in Saudi Arabia between conservatives who fear the nation is growing ever more debased under the influence of Western ideas and a progressive movement that seeks to undermine societal norms derived from a Wahhabism.
Earlier this month Saudi Arabian singer Abdallah Al Shaharani was arrested after performing 'the dab' at the Ta'if festival.
He later apologised, saying: "I am most apologetic to our honourable government and my dear president for the spontaneous movement I made in the Ta'if Festival. Accept my apology. Peace be upon you."
In July the world watched as religious police in the ultra-conservative Islamic kingdom hunted down a miniskirt-wearing woman known only as "Khulood".
The young woman, whose really identity has never been uncovered, was arrested then released without charge after being filmed walking through an ancient fort with her legs and midriff exposed.