For new(ish) CEO Dave Lewis, turning around Tesco is akin to navigating the proverbial oil tanker. The supermarket has been losing market share to discounters Aldi and Lidl, operating profits have halved, some of the company's huge debt has been reduced but there's more to go and, probably most important, the public has fallen well and truly out of love with Tesco.
While the grocer was seen as the cheapest – or equal cheapest with Asda – love didn't really come into it. It made sense to shop there, not least because there was more likely to be a big one nearby than there was an Asda, Morrisons or Sainsbury's.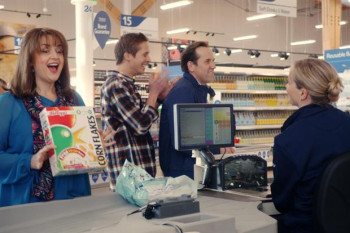 Now, with online shopping and convenience stores all over the place as well as Aldi and Lidl, people have become accustomed to shopping around or staying at home. Tesco needs to become more than just a convenience store – in various sizes.
So it is returning to what these days is often seen as "old-fashioned" TV brand advertising, its first such effort for 15 years or more. In the interim, it's been content to plug its prices and offers, hoping the "Every Little Helps" tag sees it through.
Its last famous ad campaign was the "Dotty" series featuring Prunella Scales as a pesky shopper, with Jane Horrocks as her long-suffering daughter. The point was to show how helpful Tesco was, even with someone as unreasonably demanding as Dotty.
The goodwill this engendered has gradually been lost over the years, not least because Tesco stores were understaffed. This wasn't lost on Lewis, who hired thousands more in one of his first moves.
And ad agency BBH (the previous campaign was produced by the Lowe agency; in between, Tesco had two others) has revived Every Little Helps and Dotty in its first big campaign for the retailer. The new Dotty isn't actually called Dotty, she's called Jo, played by Gavin And Stacey's Ruth Jones. But you get the idea.
Advertising on its own won't turn round a supertanker like Tesco but it's the best way to engender a little (possibly unmerited) warmth and, by plugging Tesco's various new offers, persuade people to try the store again.
Will it work? The first ad broke over the weekend and there'll be lots more in the run-up to Christmas. BBH is a class act (best known for Audi and British Airways ads and, back in the day, Levi's) but this is quite a challenge. It's a brave step to try reprise a much-loved campaign, one of the best by any British grocery multiple.
Lewis knows the power of advertising. In his previous role as head of Unilever's Personal Care division, he oversaw highly successful campaigns for Dove – "Real Beauty Sketches" – and Lynx (Axe outside the UK). Lynx was handled by BBH.
So the new campaign isn't just a test for Tesco, it's one for all such big budget, humour-based campaigns, still the hallmark of the best British advertising. Can such things still work in the digital age? The numbers will show soon enough.
---
Stephen Foster is editor of More About Advertising, a former editor of Marketing Week and a London Evening Standard advertising columnist. He wrote City Republic for Brand Republic and is a partner in communications consultancy The Editorial Partnership.
---