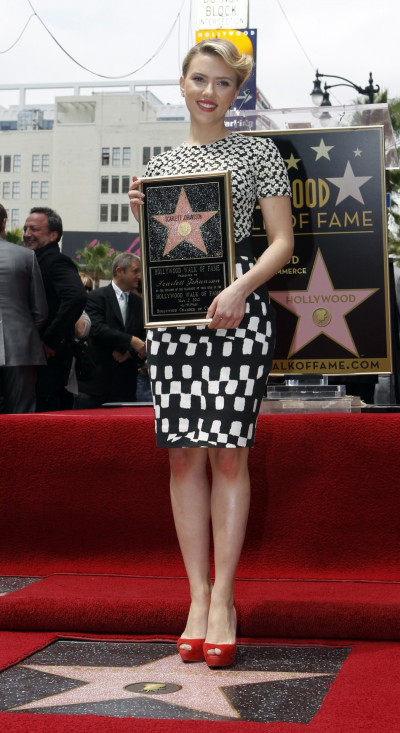 Hollywood star actress Scarlett Johansson joined the exclusive club of celebrities with Stars on the Hollywood Walk of Fame in California, on Wednesday.
The 27 year old actress, who was most recently seen in the ode to Marvel comic superheroes - the film "The Avengers" - as the Black Widow, was honoured by the Hollywood Chamber of Commerce with the star on 2 May at 11:30 am, on the Hollywood Boulevard in front of Madame Tussauds Hollywood wax museum.
Johansson is widely acclaimed as one of the America's best actresses and has an impressive pedigree and history in the industry and was first noticed in "Manny & Lo", at 10.
"Never ever in my 20 years in this industry would I ever, ever have thought my receiving this star would be even a remote possibility," an overwhelmed actress said as she accepted the honor.
"We are thrilled to honor an actress who has graced the screen and stage since she was eight years old. Over the past 18 years Scarlett has matured into a recognized cinematic presence with an impressive body of work," Ana Martinez, Hollywood Walk of Fame Producer, said in a statement.
Johansson was accompanied by Jeremy Renner, her co-star from "The Avengers," for the unveiling of the 2,470th Star on the Walk of Fame, in the category of Motion Pictures. The star itself bears the symbol of a classic film camera, representing the Motion Pictures category.
However, the Hollywood Walk of Fame also gives stars to people from the broadcast, radio, theatre and music industries. All the stars are made of terrazzo and brass and each costs, approximately, $30,000.
Check out the slideshow showing pictures of Scarlett Johansson at the Walk of Fame ceremony in Hollywood...