The peace summit in episode 3 of The 100 season 3 turned deadly with another Mount Weather massacre. Now, Arkadia has become Earth's 13th clan, while Clarke Griffin has decided to trust Lexa, even after she almost killed her in the episode.
The promo and synopsis, released for the upcoming chapter, teases a division between the Sky People, with Pike and Bellamy leading the anti-Grounder front. Also, Marcus Kane and Abbey would struggle to maintain peace at Arkadia, and everything suggests that a war is brewing.
Episode 4 is titled, Watch The Thrones, which airs on 12 February at 9pm EST on The CW. Below is the synopsis of the episode:
Clarke (Eliza Taylor) discovers the mastermind behind a devious plan. Kane (Henry Ian Cusack) struggles to keep the peace. Meanwhile, Jasper's (Devon Bostick) grief drives him to reckless behavior. Paige Turco, Isaiah Washington, Bob Morley, Marie Avgeropoulos, Lindsey Morgan, Christopher Larkin, Ricky Whittle and Richard Harmon also star.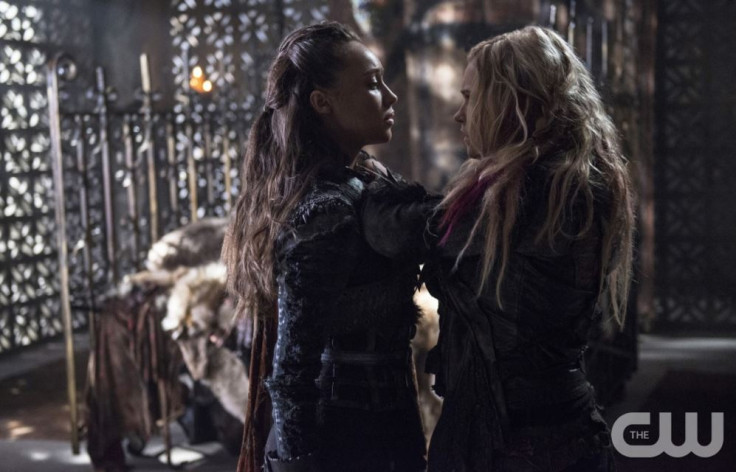 The Ice Nation attack at Mount Weather claimed numerous lives of the Sky People, including Bellamy's girlfriend Gina. The incident turned Bellamy against the Grounders, according to executive producer Jason Rothenberg.
He told TV Line, "I wanted Bellamy to have some skin in the game. I wanted him, when Mount Weather was destroyed, to lose someone significant so that his turn to the anti-Grounder side has even more reason behind it"
" He already has no affection for that culture, unlike Octavia, but I wanted there to be that one thing that would justify him really taking up the mantle of 'all Grounders are bad.' That, coupled with Pike's influence, is what pushes him in that direction. It's going to be hard to watch for fans who want him to be perfect, " Rothenberg added.
A new promo shows Pike telling Bellamy, "The Grounders out there will attack this camp. We wait we die." To which he replies, "You are asking me to get you guns? That's treason!" However, Pike maintains that it is for their survival.
Then, Bellamy tells the Arkers army, "There is an army waiting outside, we need to hit them before they hit us." The video also shows Kane telling Bellamy, "It is not too late to choose the right side."
In episode 3, fans also saw Lexa bow before Clarke and pledge her allegiance to her, but Rothenberg maintained, "Clarke agrees to stay, she's doing it largely because she still doesn't trust Lexa."
Jason added, "Now that the Sky People have become the 13th Clan, they need an ambassador — and who better than 'Wanheda' to stay there and make sure Lexa follows through on what she promised?" According to the producer, Clarke is still attracted towards Lexa.
"There's no doubt that Clarke feels tremendous amounts of attraction towards Lexa, but it's something she's still resisting. As you saw, when she tried to kill her this week, she couldn't; there's something too strong there for her to fight," he claimed.