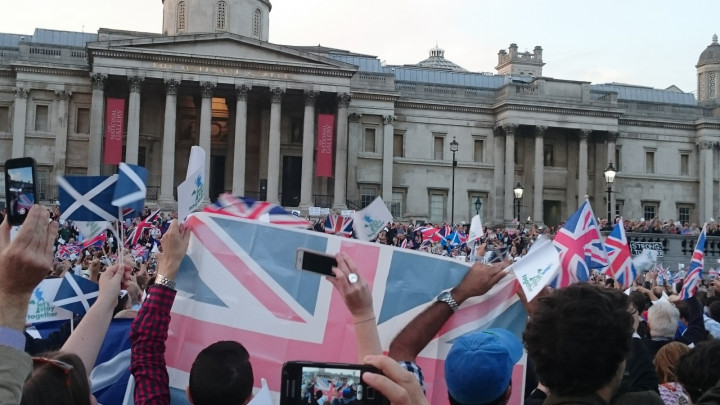 Comedian Eddie Izzard, global warrior Bob Geldof and thousands of others turned Trafalgar Square into a rally ground for a last-ditch bid to save the United Kingdom.
Ahead of Thursday's crunch vote on Scottish Independence north of the border, this was a bid to sway the voters from distant London.
In fact, the choice of location for this rally cry next to Westminster was curious in itself. In Scotland, an antipathy toward Westminster and its "politics as usual" has been one of the few pieces of common ground during an increasingly bitter campaign.
There was no mention of negative campaigning or the alleged "menacing" of 'No' campaign leader Alistair Darling by supporters of Alex Salmond's 'Yes' campaign.
What took place in Trafalgar Square seemed much more like a bid to charm the Scots. Any lecturing or finger-wagging similar to that which the 'No' campaign has been accused of adopting, was steered well clear of.
Instead, this was heart-on-sleeve stuff by the speakers, with TV presenter June Sarpong acting as mistress of ceremonies. It was the group equivalent of a plea to stay by a lover who fears they are about to be cast adrift.
Comedians Al Murray and Eddie Izzard each addressed the crowd and neither was particularly amusing, which was probably because the subject is no laughing matter.
Izzard spoke about the prospect of a new border between Scotland and England in terms of a backward step for humanity. "The great thing about the United Kingdom is that we took them [borders] down. It just seems so sad to break up our family and build a border. Humanity is about human beings coming together, otherwise we have no future."
Geldof, appearing on a public platform not long after the death of daughter Peaches, called on Scottish voters to give a "great, big glorious no" to independence.
"No is not always a negative" he said to warm applause. "It's certainly right to let your heart inform your head when you vote." Patriotism was a natural thing, Geldof continued: "But it is so easily manipulated in to some perverse political ideology."
Geldof called the SNP's vision "a mythical 18th-century notion" adding: "We need to go in to the 21st century together."
Even Ewan MacGregor was in Trafalgar Square. Not the Hollywood actor, but a 24-year-old Scot wearing a kilt and draped in the Union flag.
"We're all part of the UK. I'm Scottish and I'm also British and we'd all be poorer for it if we split because after 300 years there's very little to divide us."
A recital of W H Auden's poem Night Mail was listened to in rapt silence as if it was a reading at a requiem mass in remembrance of things past.
Dan Snow, the TV historian went for a functional approach, listing some of the many technological advances gifted to the world by Scottish brains. Television, colour photography and Scottish granite all got mentions.
It wasn't clear exactly how this catalogue of Scottish prowess made the argument for the country's need to stay tethered to England, Wales and Northern Ireland, but the flag waving spectators lapped it up.
The question is whether anybody north of the border was paying attention to this heartfelt and sincere plea from far away London.