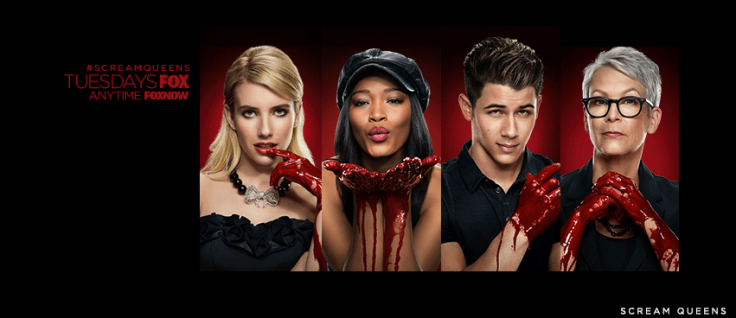 After a deadly Thanksgiving, Scream Queens aired the Black Friday episode and fans of the horror comedy are still wondering about the real identity of the Red Devil. The serial killer continues to roam freely at Wallace University.
While many fans had been speculating that Hester is the other bathtub twin, new hints during the pre-finale episode have once again left viewers puzzled. In the episode, Grace (Skyler Samuels) offers herself as a 'gift' to Pete (Diego Boneta) who is her partner in the investigation of the serial killer who hides his real identity behind the hood and mask of the Red Devil.
Warning: This article contains spoilers for episode 11 and the finale. Read at your own risk.
But Pete rejects her advances saying, "I don't want your first time to be with a murderer." Previously, in the same episode, Chanel and her gang speculate that Dean Cathy Munsch is the killer and in order to save themselves they have to kill her.
To everyone's surprise, Grace agrees to the evil plan but Zayday opposes it. Later, Chanel and Grace gift a bottle of poisonous apple cider vinegar to Munsch. However, she survives the murder attempt.
When Grace confronts Pete about the murder attempt, he urges her not to turn into one of the Chanels and keep her real personality intact.
Upon realising her mistake, Grace returns to Pete's apartment, only to see him packing his bags to leave town. The investigative journalist is seen talking to someone over the phone and saying, "This isn't me," and that he has had enough.
In the course of packing his bags, he opens one of his wardrobes where the Red Devil costume is seen hanging. At first glance, this could imply he is the killer but again he need not be.
If he is indeed the killer, he is one of the bathtub twins and a brother to Grace as Weston Gardner is their father. E Online suspects that Ryan Murphy may not go as far as showing an incestuous relationship in his horror comedy and like all other suspects he too might have a reason for the Red Devil's costume hanging in his wardrobe.
The finale of Fox's hit series will finally reveal the real murderer and it can be anyone from Grace, Chanel and Dean Munsch to Gardener. The episode will air on 8 December on Fox Network.